13
May 14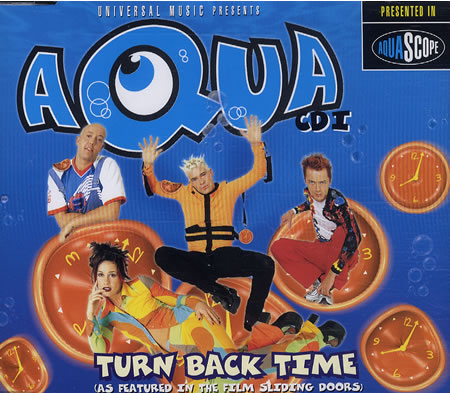 After proving the Aqua formula could work repeatedly, they drop it: "Turn Back Time" is a cryptic, self-hating ballad about choices and dire consequences. In mood it's closer to Madonna's "Live To Tell" than any of the band's own other songs, though it sounds nothing like that. "Turn Back Time" rides a tense, honking Pet Shop Boys sample and is mainly a vehicle for Lena Nystrom's thickly-accented singing. The boys of Aqua are banished to a strictly backing vocals role at the end of the song. The entertaining Rene gets a day off to growl at Copenhagen passers-by.
Liberated from chirping, Lene has a strong, torchy voice and can sell a phrase – check the resigned and bitter way she sings "Claim your right to science". More important in this context she can set a mood. In half a verse she's established a lonely, withdrawn, guilty feeling she might push against in the rest of the song. But the song has other ideas: before its second chorus can end the track ruptures, clanking breakbeats bursting up through its steady rhythm, snips of gasps and cries lurking at the back of the soundfield, and Lene barking out a single line repeatedly. This intrusion – easily the most striking part of a placid track – dies away, and having survived it the singer is longer alone: it's here the comforting backing vox turn up.
The unexpectedness of "Turn Back Time" – a third Aqua Number One, a ballad at that – means it has a high reputation. I've heard people claim it as Aqua's best. I wouldn't go that far – it's a pleasant ballad with one great idea, and there's a wicked delight in "Barbie Girl" and a more straightforward joy in "Doctor Jones" that it's a shame to lose even for an odd, off-kilter thing like this. Still, there's more here than just an impressive demonstration of range: appropriately for a song about regret, something about "Turn Back Time" lingers and nags at the memory. The song's broken English refuses specifics, which opens up resonant spaces: if you needed depths here, you could find them.
6
Comments
«
1
2
All
«
1
2
All
Add your comment
Top of page