25
Apr 14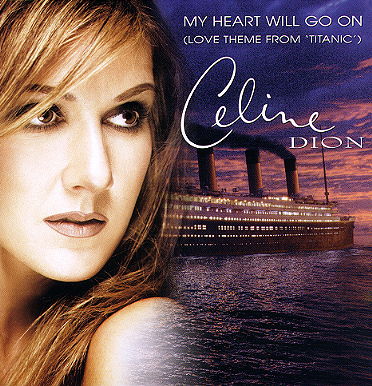 Virtually everything I said about Aqua's success and Europop also applies to Celine Dion, except at gargantuan scale. Longing is as universal as dancing, after all, and on "My Heart Will Go On" Dion produces the most straight-line expression of yearning she can, a record whose emotional aim is unmistakeable whatever your language, national or musical heritage. It was huge everywhere, but in Europe especially its conquests would make Napoleon blush.
This targeted globalism might account for Dion's heavier accent and phrasing – "Luff wass when I lufft you" and so on. The trace inflections on "Think Twice" have become full-blown exaggerations, emphasising how she's not a native English speaker but far harder to specifically place. Sound like you belong nowhere, and maybe you belong everywhere. In his landmark book Let's Talk About Love, which has become an inevitable companion to any chat about Celine, Carl Wilson raises the idea of schmaltz as a key to Dion's appeal. Wilson identifies in schmaltzy songs a tradition of "ethnic outsiders who expressed emotions too outsized for most white American performers but in non African-American codes".
Translated to Britain, where the "color line" operated differently, we're back to the heaving, sobbing, light opera sentimentality of David Whitfield and Al Martino, the very dawn of the charts. But even here schmaltz is still, as Wilson posits, an immigrant emotion: 'hot-blooded' foreign music expressing things too large and florid for the sophisticated (or repressed) English culture to handle. Emphasis English, not British: England treats the rest of the United Kingdom as a source of on-tap emotion, wildness, mysticism, and so on. That goes double for Ireland, where "My Heart Will Go On" is drawing much of its musical schmaltz from, and England at the end of the 90s is fascinated by Ireland: its comedians, its boybands, its economy, its bonhomie, and, yes, its sentiment.
So a reading of "My Heart Will Go On" as schmaltz in an English context absolutely works. But you don't need that explanation for its specific hugeness, here or anywhere, since it had the happy circumstance of being bolted on to the end credits of the highest-grossing film of all time. With audiences sniffling already, the simplicity and directness of "My Heart Will Go On" – not to mention it's third-chorus wham of a crescendo – is as foolproof a purchase trigger as you could imagine. It sold 15 million worldwide – if iTunes had been around back then, ready just as you left the theatre, it might have sold twice that.
The interesting thing, though, is how so many people involved with the song thought it was a bad idea. James Cameron had to be talked into using it, and Celine Dion didn't want to record it and laid her vocals down as a one-take demo. Did they feel it was too gross, too manipulative? It's possible. Their hunches, in any case, were commercially completely wrong – but aesthetically a lot more defensible. "My Heart Will Go On" is not, by my lights, a good record.
But where does it go wrong? Not in hugeness – world-cracking balladry is nothing to be ashamed of. Not the performance, either – it's a stirring tune, and Dion's singing before the song peaks is an interesting study in how someone with a powerful voice projects hurt and weakness, with a fluttery, restrained thinness until she's able to roar on the climax. My problem is its lack of imagination and ambition. Which seems an odd charge to level at such an epic record, but for me "My Heart Will Go On" is too universal – there's no twists of language or sentiment here, no musical surprises, nothing to make this feel like an individual human experience to relate to. "Think Twice", "Total Eclipse", "The Power Of Love", and many of the other megaballads felt like ordinary feelings exploded to epic size, their vulnerabilities intact: "My Heart Will Go On" feels like an epic hunting around for a feeling wide enough to fill it. But it's also too specific – because obviously it is about individuals, Jack and Rose, Kate and Leo. It's as parasitic a record as "Men In Black": you have a ready-made story to fill the epic up. But if you haven't seen Titanic – and I haven't – the song is an empty vessel.
3
Comments
«
1
2
3
All
«
1
2
3
All
Add your comment
Top of page