28
Feb 14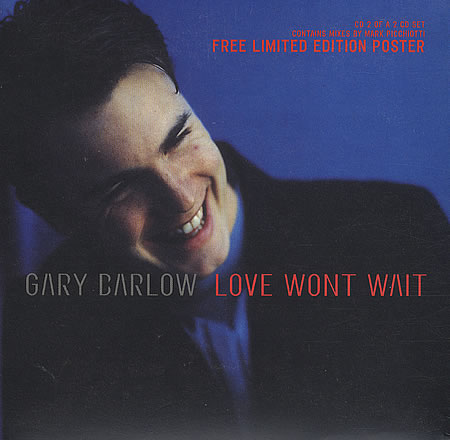 Few figures from 80s pop could match Michael Jackson for popularity and cultural weight. Perhaps only one, and she had also found the 90s harsher going than anticipated. Madonna's apparent decline was more respectable than Jackson's, but less interesting: intriguing grapples with R&B, pleasant soundtrack ballads, sales drifting downwards, and finally a solid, unrevealing, turn on a revived Andrew Lloyd Webber musical. "So what happens now?" her final single from that project asked. The answer, in 1997, was cloudy. Meanwhile one of her demos from a scrapped LP ended up in Gary Barlow's hands, giving Madonna her first number one song in seven years.
"Love Won't Wait" is a massive step up from "Forever Love" in quality – but it's also easy to hear why Madonna ditched it. Listening to her demo version, with co-writer Shep Pettibone producing, doesn't necessarily tell you what a finished version might have sounded like. But vocally, it feels like a return to the confident pop tourism of True Blue – a shot of unreturned devotion in wide-eyed Brill Building style. There's not much wrong with it, but not much point to it either: her dips into old styles had shown her mastery of girl-group melodrama, and she'd then gone on to reinvent it. Why go back? So "Love Won't Wait", and Pettibone himself, were dumped and Madonna turned to Babyface and contemporary R&B. Gary Barlow saw the song's potential, and got hold of it.
Gary's take replaces the tentative pop backing with cruise ship disco presets, speeds it up, and immediately makes it sound like an early Take That track he's brushing down, not a Madonna one. You can almost see the breathless, fixed-grin hoofing of the other four as Barlow takes the lead. It's not, by any means, an awful single: it's unimaginative but pleasant, and it has a tune a milkman might whistle, if his route lasted several years and he'd run through everything else. But in adapting "Love Won't Wait", Barlow makes a couple of decisions that I find quite revealing about how he understands and thinks about songs.
The first is choosing a Madonna song in the first place, and giving it a straightforward genderflip. "Love Won't Wait" is about kicking aside a time-wasting lover, and there's no reason Gary shouldn't sing about that. But lyrics about how someone is wasting time, how you won't wait any longer, how you're going to leave if you don't get what you want feel a bit different coming from a male singer. On paper, we're nudging towards "if you really loved me you'd sleep with me" as a message. Luckily, this isn't how the song comes across, because Gary Barlow is always going to sound petulant and mealy-mouthed rather than aggressive. Still, the outcome is the same – he's tough to sympathise with.
The second decision is a tiny one. As she leads into the chorus, Madonna sings "you think I'm not that strong, you know…." on the first two go-rounds. Then on the third, she switches it: "you think I'm not that strong, you're wrong!". Barlow, on the other hand, picks "you're wrong!" every time. If he thinks it's a tougher, stronger hook, he's right – but in the original it's also a payoff. It gives "Love Won't Wait" a storyline – a woman assessing her situation, then building up the strength to asset herself. Barlow's version makes the song more static. It's the slightest of details, but details are what often make a pop song live, and this one makes me suspect that Gary Barlow has no great feel for the material he's working with. "Love Won't Wait" is a cast-off that had a shot at being something more: Barlow wastes that chance.
4
Comments
«
1
2
3
»
All
«
1
2
3
»
All
Add your comment
Top of page