7
Feb 14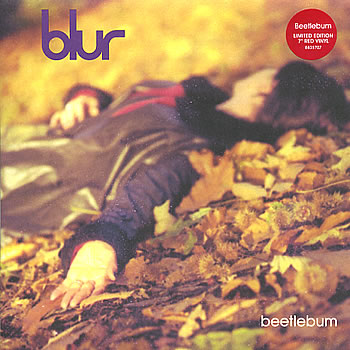 The question "what happens after Britpop?" wasn't just an urgent one for the music press and the new bands courting it. It was also fairly pressing for the Britpop bands themselves, Blur in particular. Whoever's idea it had been, the marketing triumph of Summer '95 had a lingering and unexpected consequence: once conjured, the Blur/Oasis rivalry could not be easily controlled. The two bands were now bound together as if by some dreadful oath – each liable to be measured on the other's latest achievements, however irrelevant the comparison.
In 1996 this had done Blur no favours. Sales of The Great Escape would have stood solidly alongside any contemporary LP – except the only one it would actually be compared to. The band, once fawned-over, found themselves exposed to less generous readings from critics – their Britpop-era work a trilogy that had dragged on too long and failed to stick the landing.
"Beetlebum", when it first appeared, was pressed into this storyline too. Taking some faint clue from the harmonies (and, to be fair, the title) I remember some critics positioning it as a landgrab on White Album-era Beatles: the knotty, raw, arty part of the Beatle legacy that Oasis would never touch. Sense prevailed when the LP came out, and it became more obvious that the band were playing greedy catch-up with all the ideas that had come out of American indie rock in the 90s. They came to bury Britpop, not to extend it.
From this point, the Oasis link began to work in their favour, even as they played it down. Nobody would deny that in the fallout of Britpop, Damon Albarn embraced his magpie side and started hopping across projects and genres with liberated abandon. But because the band most easily linked with Blur became such a byword for bloody-minded non-invention, Albarn's experimentation within that band was cast in a particularly friendly light. If the most readily-recalled alternative was a shambolic living museum, it's easy to look at experimenting with indie rock, post-rock or gospel as good things by definition, rather than ask "OK, what does he actually do with them?"
So, on "Beetlebum", what does he do with his inspirations? On a structural level, it's rather good: Blur are writing a song using standard post-Nirvana dynamics, with surly, choppy verses that ought to flare into rage on the chorus, but instead bloom into sleepy, burnt-out neo-psychedelic harmonies. Two different parts of the alt.rock landscape, brought together on a Number One hit. It's admirable and effective, but I also find "Beetlebum" extremely hard to like.
My problem with it is Albarn himself. As well as the social observation songs, and the character songs, he's always built tracks around ennui and exhaustion, and often they're his best ("To The End" and "This Is A Low" for instance). As his songwriting seemed to get more personal later in the 90s, though, I found less of a way into these songs. Perhaps because he'd been an effective observer, or perhaps just because he'd been a callous one, I could never get invested in hearing Damon Albarn bare his soul. "Beetlebum" is supposedly written to capture Albarn's experiences with heroin, which might justify its sullen, self-enclosed feel, but even given that unpromising topic there's no rock junkie whose drug memories I'd be less interested in. As I said on the "Country House" thread, empathy was never his strong suit – and that goes for eliciting it as well as feeling it.
However unusually-crafted "Beetlebum" is, or however odd seeing it at No.1 was (odd, though not unexpected – this is a fanbase record in an era friendly to them), I find listening to it a cold, unrewarding experience. Or I would, if not for one thing: Graham Coxon's aggressive guitar work. Competing with Albarn's listless vocal for too much of the song, he still gives "Beetlebum" its two highpoints. There's that purposefully ugly, stabbing intro, his guitar scraping at a fixed point like a compass into wood. And there's the coda, where his plaintive closing riff struggles to keep its bearings on a tide of hostile, skronky overdubs. These parts are thrilling where the rest of the song is sulky, and point to a way out of the Britpop trap that's spurred by invention, not hurt pride.
5
Comments
«
1
2
3
4
All
«
1
2
3
4
All
Add your comment
Top of page