19
Jan 14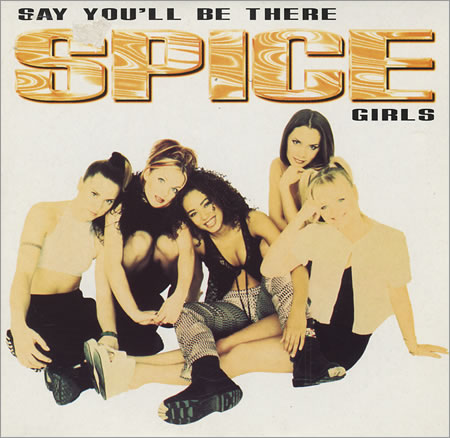 You can see why Simon Fuller and the label wanted "Say You'll Be There" to be the Spice Girls' launch single. It's just as bouncy as "Wannabe", but tighter and perhaps even catchier. It both fits into the mid-90s pop landscape and leapfrogs it – doing the plastic R&B thing Peter Andre does and Take That sometimes tried, but making the boys look laughable, with heaps more swagger and panache. It gives everybody in the group something to do – if this had been first, maybe Mel C would have been seen as more of a focal point, and Victoria less dismissed.
As well as being a brilliant record, "Say You'll Be There" had another natural advantage for a management team of pop-savvy dudes: its theme. The scenario is a simple one – girl and boy are friends, boy wants more, girl does too but can't be sure he'll stick around afterwards. This is the kind of song young women in pop have often sung, from the Shirelles to Gabrielle's "Give Me A Little More Time" earlier in '96. It was – and may still be – a genre staple on magazine problem pages, too: should I go all the way? If you're going to launch a girl group, a slick, on-trend update of this might seem like a solid, safe choice. As a springboard for "girl power" it's a lot less distinctive.
But release it after said manifesto and the song comes into sharper focus from the very first line. "Last time that we had this conversation / I decided we should be friends". Which establishes two things – this isn't the first time lover-boy has tried it on, and it's not 'we' decided: girls make their own choices. What's changed this time? The boy is bringing "love" into it, and the song is asking – is this sincere or tactical? While it doesn't exactly subvert its sex/commitment trade-off sub-genre, "Say You'll Be There" still reframes it in the same terms established on "Wannabe". Words don't matter, whether they're "zig-a-zig-aah" or "I love you". Victoria gets the key line: a slightly weary "It would be better left unsaid". Only actions count: prove it or move it.
In my memory this is the single that started to win the critics over to the Spice Girls, but a check of the facts shows "Wannabe" high on music press lists for '96. What "Say You'll Be There" did cement was a perception of Mel C as the most talented Spice. (Only talented one, according to grumps.) You can see why – she blasts her way through the final minute of this, shouting and taunting and diving and weaving between the other girls' harmonies. It's delirious and infectious and my favourite single bit of any Spice record – but it's effective because she's ad-libbing her way around a tight five-woman performance, not showboating. (A nice, coincidental riposte to Boyzone – this is how you do dynamic group singing, lads). It's also a really necessary performance: the chorus on its own risks feeling slightly supine and Mel's joyful interventions are a sharp reminder that this song celebrates romance on the girl's terms.
There's one other moment that jumps out at me from "Say You'll Be There". As we'll see, their arrangements are rarely the best parts of a Spice Girls record. Here though, as with "Wannabe", they match the Girls' raucous delight in owning a pop moment. I love almost everything about the music on "Say You'll Be There" – from the sinuous, ear-nagging high keyboard lines lifted from West Coast hip-hop to the little skritches of turntablism at the verse line-endings (incongruous scratching will be a signature sound of late-90s pop). Sadly, the S-Funk era promised here won't last, but it does deliver one great incongruous thrill: the blithe harmonica break dropped in after a group shout of "I want you!". As a moment in its own right – and that's maybe all it's meant as – it's just a lovely free gift in an already terrific song. In the wider scheme of British pop jaunty harmonica breaks have a certain precedent, though. Selling millions, defying predictions, unnerving interviewers, moving like a gang, about to break America – if there's a British group with the right to do Beatles callbacks at the end of 1996, it's not the boys with the Union Jack guitars.
8
Comments
«
1
2
3
All
«
1
2
3
All
Add your comment
Top of page