20
Jan 14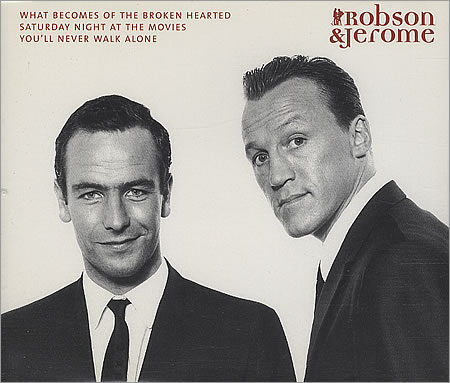 In an act of unprecedented generosity, Robson and Jerome's return single – the first from a new LP of reworked covers – was a triple A-side. If they were indecisive over the lead track, that's no surprise – each of these songs is a worthy addition to the Robson and Jerome catalogue, quite the equal in quality of "I Believe" or "Unchained Melody".
Why such a bold treble-header release? Perhaps, deep down, they knew that – in the words of another triple-disc-making member of rock's pantheon – all things must pass. Much like the Jam, Robson and Jerome split at the peak of their fame. This is their final single, making the dying chords of "You'll Never Walk Alone" – a true people's anthem, given a highly affordable production here – that much more poignant. Their legacy is immense: not only did they help launch the career of hitmaker Simon Cowell, they remain the only act whose every original release – single and album – hit the top of the charts. It's a stunning testament to their efforts and the judgement of their fans.
The other tracks on this landmark single are just as good as "You'll Never Walk Alone". "Saturday Night At The Movies" sees the boys tangle with the Drifters back catalogue again – which they showed such sympathy for on "Up On The Roof". They've been practising in their time away, though – high notes which would have given Jerome (or Robson) pause last time are now yomped over with something close to aplomb. But best of all is "What Becomes Of The Brokenhearted?", a powerful reading of the Jimmy Ruffin hit. "All that's left is an unhappy ending", Ruffin sang. But it's a mark of the imagination and goodness of Robson and Jerome that they won't let that depressing state of affairs lie. Instead they give us a happy ending – with a cannily-placed key-change and an exciting drum break to end on. "Now departed – yeah!" And as these two men themselves depart, let's not forget that nothing really ends. Robson and Jerome are gone, back to the starry world of television, but maybe we will see their like again.
2
Comments
«
1
2
3
All
«
1
2
3
All
Add your comment
Top of page