8
Jan 14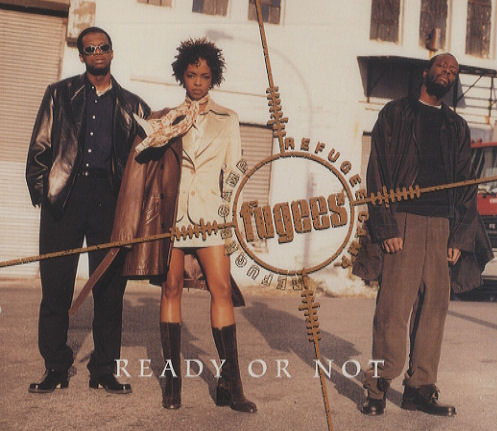 Carried to Number One in "Killing Me Softly"'s slipstream, "Ready Or Not" feels a darker, stranger proposition. As before, Lauryn Hill holds the song together by laying an old soul tune over a spartan beat, but there the resemblance ends. "Killing" was intimate; "Ready Or Not" is forbidding – the tone set by the cold smears of woodwind the beat is built around: an Enya sample transformed into a ghost owl call, carried on a night wind across desolate open ground. The Delfonics' song this track borrows is blissful – one of the greatest expressions of joy and life force in all 70s soul. Here it's at least half threat, Hill investing the song's break – "You can't run away…" – with a dancing, taunting confidence.
In structure, this isn't so odd – a traditional hip-hop group cut, the band's three MCs taking turns between the hook. Wyclef jumps in first, taking the nocturnal fug of the beat and running with it for a hallucinatory verse, the context of every line slipping away as the next one starts. "My girl pinch my hips to see if I still exist: I think not." By contrast, Lauryn Hill is focused and aggressive, her verse more of a battle rap, a jabbing barrage of "-ess" rhymes finished with a closing metaphor to piss off any new fans happy simply to accept her as the sweet-voiced soul singer. "I be Nina Simone, defecating on your microphone". And Pras? Pras' few bars are an anticlimax, though the Guantanamo Bay mention gives listeners now an anachronistic jolt.
It doesn't tell a coherent story, it doesn't exactly resolve, it's the druggiest number one since "Jack Your Body" (though this is saying very little) and its difference from anything else this year – even its predecessor – is bewitching. The track slips away under cover of its Delfonics chorus, and it feels like something enigmatic and special has passed by – something not native to the sunny, brash uplands of the Britpop-era charts, and all the better for it.
8
Comments
«
1
2
All
«
1
2
All
Add your comment
Top of page