30
Jan 12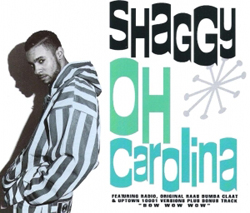 Shaggy's take on "Oh Carolina" acknowledges its debt to the past right away – sampling the intro from the Folkes Brothers' 1960 original. Not just a nod of respect, it's a canny move, as the crackling, wheezing shanty-town piano sounded like nothing else on 1993 radio, giving "Oh Carolina" instant cut-through.
But everything about Shaggy's breakthrough hit is shrewd. His "Oh Carolina" is shooting for crossover smash and party smash at the same time, which means that every touch the production adds – bells, brass, "Peter Gunn" bass – is trying to bring new people into the tent. It's shameless, but it works. The Folkes Brothers' track is shockingly raw – Count Ossie's drums mixed aggressively high, so the group's lilting song gets buried under their clattering, peg-legged rhythm. And you could argue dancehall works best when it's stripped down likewise – the novelty of the riddims and the swagger of the MC mixing confrontationally, without compromise. "Oh Carolina" is comparatively eager to please, but the theme park version of old Jamaica it conjures up is still a terrific place to spend a few minutes.
If anything lets the track down, it's Shaggy – at the start of his career, pushing ragga MCing out to an international crowd, he sounds more hesitant than you remember, with growls scattered around the track but less of the gruff brio of later hits. Never the flashiest of MCs in any case, Shaggy here is having to spell out what ragga is and does for a big chunk of its new audience: at two decades distance, with that educational work done, his patience doesn't seem so much of a virtue.
7
Comments
«
1
2
3
»
All
«
1
2
3
»
All
Add your comment
Top of page