30
Aug 11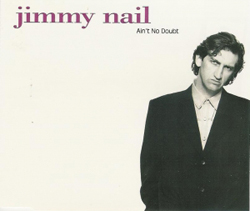 "Ain't No Doubt" plants its emotional flag in territories claimed and mapped by Phil Collins – that master of gangrenous wrath and bitterness lurking below blokery's rumpled jacket. It's break-up pop of the shabbiest kind; lies, quarrels and wilful miscommunication played out raw in front of us. On TV Nail played hard bastards, for laughs or drama or both – some of the intrigue of his pop career must have been seeing a more sensitive element in him, but I doubt the straight-talking, bullshit-calling narrator of "Ain't No Doubt" came as much of a shock to the fanbase.
What's rather more surprising is the music. Most of Nail's records were thoroughly trad: gruff, measured rock and soul stylings, workmanlike performances enlivened by the odd Knopfler guest-spot. "Ain't No Doubt", on the other hand, is a one-of-a-kind meeting of pub rock and swingbeat: ruminative, finger-pointing spoken passages broken up by a two-fisted funk chorus that lunges at you like a closing time drunk. It would be an odd record if anyone had recorded it, but this really isn't the style you expect a 38-year-old TV star to pioneer.
Here's the really strange thing: it kind of works. The lurching production is so awkward, its singer so ill-at-ease, it makes Nail's spoken passages rawer – this is a man happy to humiliate himself if it gets the message about his partner's perfidy across. Contrast his lumbering with the smooth replies from the ever-professional Sylvia Mason-James, quite at home in this setting: it's as if Jimmy's barged into the disco on a girls' night out to shame his lady, and we're onlookers peeping through our fingers.
It's also an unintentionally funny record, of course, and probably the most imitated of the year. And in the end it's not a thing you'd want to listen to much: I couldn't stretch to calling it good. But it's interestingly, admirably bad in a way most TV-star records aren't.
4
Comments
«
1
2
3
4
All
«
1
2
3
4
All
Add your comment
Top of page