24
Aug 11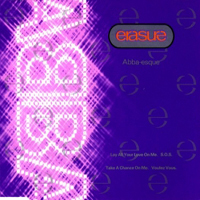 I've always found it hard to get a handle on Erasure. I end up filing them in the same headspace as ELO: remarkably successful, remarkably long-lived pop craftsmen who are generally – as here – enjoyable but only very rarely hit any sort of emotional or even conceptual payday. After playing all four ABBA-esque covers I couldn't help myself: I cued up the Pet Shop Boys' "Where The Streets Have No Name / Can't Take My Eyes Off Of You" medley and had forgotten anything I might have liked about Erasure within ten seconds.
But they were never a poor man's PSBs – there was something intriguingly different about Erasure, the way their two halves never quite gelled: Vince Clarke's sleek, tidy, heads-down synthpop and Andy Bell's roaming, reaching vocals. On their best singles the clash was productive – a track like "Drama" seems lopsided and unwieldy but it absolutely works: both men are fizzing and they end up going in the same direction. More often the potential was missed: on their worse tracks one or the other seemed bored.
The problem with ABBA-esque is that they both seem scared to cut loose and play to their strengths instead of the songs. Bell is subdued, in the shadow of Frida and Agnetha's pristine takes. Clarke fiddles around at the edges of the tracks but only on "Voulez-Vous" shows much sign of wanting to strip them down and refit them. The whole project roars to life exactly once, when MC Kinky takes over for thirty delightful, crass seconds in the middle of "Take A Chance On Me" and shows the song a little creative disrespect at last.
The "Take A Chance" video, on the other hand, caught the tone of the next several years of ABBA revivalism: wigs out, tunes ahoy, kitsch as you like. Like most great pop bands ABBA fitted their time so well that they were utterly vulnerable to shifts and revisions in the meaning of that time. This was the high point, the crossover moment, in a long-building rehabilitation of the 70s, an acknowledgement that if it was (as The Face sniffed) "the decade that taste forgot", maybe forgetting taste was a pretty smart idea? The 70s were proudly naff, therefore ABBA were proudly naff. I'm not against that – it opened up the space for the other sides of them to be remembered, and it's quite possible that without the Bjorn Again-Erasure-Gold domino topple I wouldn't love them so much now.
But this EP seems overshadowed by the rediscovery it helped spark – Erasure's versions, zesty at the time, simply don't touch the originals on any level. The songs are terrific, of course, and the record is in a different world of care and effort than a KWS. But if a singer as florid as Andy Bell can't have fun with "Lay All Your Love On Me" then somewhere an opportunity is being missed.
5
Comments
«
1
2
All
«
1
2
All
Add your comment
Top of page