7
Feb 11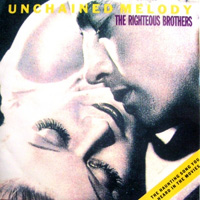 The charts have always moonlighted as a marketing department for Hollywood but sometimes in the early 90s it seemed that was their primary role. A shrinking pop audience was no match for the commercial wallop of blockbuster cinema, so soundtrack hits could boss the Top 40 for weeks or months on end. Most, obviously, were a great deal worse than this but in 1990 "Unchained Melody" seemed very much part of the problem. Add the song's unfortunate post-Ghost tendency to hit big no matter which muppet got their hands on it, and you'll understand why it took me a long time to warm to this. Even now it feels like a fragile truce: all it would take is one flick of Cowell's little finger and I'd be back cursing it again.
Even if it never gets a fifth turn at number one, "Unchained Melody" has an eternal top-table membership in the pantheon of popular love songs, and like many a great love song it's absolutely soaked in agony, lust and paranoia. Just like "You've Lost That Loving Feeling", "Unchained Melody" shows how Phil Spector could use sound to dramatise and intensify the feeling in a song. In "Loving Feeling" he turned a break up into Armageddon, in "Unchained" the stately throb of his arrangement underpins all the frustration and fear in Bobby Hatfield's reading of the song's killer lines. "And time goes by so slowly / And time can do so much / Are you still mine?"
Spector also knows when to get out of the way. This is one of the great solo vocals, the pop equivalent of a long tracking shot, holding the focus unflinchingly on Hatfield's pain even as he seems to crack with the stess of it. Everything you need know about the song is in that thrilling, desolate moment at the end of the song's first section where "still mine" falters and slides into "I need", the "I" breaking up as it falls. After that, the inevitable crescendos and crashes don't take anything away from the record, but they can't add to it either.
The song's genius – in this version especially – is also in how it freely mingles the emotional and physical pain of separation. "Oh my love, my darling / I've hungered for your touch": singing this Hatfield sounds contemplative and chaste at first, but then a sudden emphasis on "hungered" and the sharp line-ending of "touch" give the lie to that. In its own way this is as tensely carnal a record as its '65 contemporary, "Satisfaction", and you don't need a potter's wheel to feel that side to it.
8
Comments
«
1
2
3
4
All
«
1
2
3
4
All
Add your comment
Top of page