16
Feb 11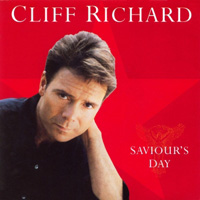 There was a great deal of talk about entryism in the 1980s – it was said of many excellent bands, and Hue And Cry too, that pop hooks would be a Trojan Horse for subversive notions of situationism, socialism and continental philosophy to slip into the charts. But man, all those groups were amateurs next to Sir Cliff! Having established himself in 1988 as a man who could deliver some cosy Yuletide jumper pop, he turns round this year and unloads God on us, close range, both barrels.
This is not actually a Christmas record. It doesn't mention Christmas once. It is a record about a holiday Cliff Richard has made up called Saviour's Day in which people do things like praise God and give thanks for the birth of Jesus Christ – between you and me I don't think it'll catch on, but Cliff sounds even more enthusiastic about it than he was when he mixed it with booze and snogging two years before. There's a suggestion that Saviour's Day isn't just how Cliff would like Christmas to be but also how it was long ago – there's something very old-timey about its references to harvest time, long journeys from hills and valleys, raising glasses to the King (even if that's Jesus again). The folksy rhythms and pipes underline this, though it's a shame they couldn't have found slightly more authentic-sounding presets – the whole record has the air of a somewhat cranky demo which Cliff decided to put out himself.
Which is quite an apt feel for it, really. This isn't a particularly good record – those wretched pipes could sink it alone – but it's honest and heartfelt in a way that most Christmas records since the 70s aren't. I am not a Christian and so the religious side of Christmas feels very distant to me, far from the centre of a long co-opted and compromised (and all the more wonderful for that) festival. But even though "Saviour's Day" sometimes drfts towards finger-wagging, I can feel the joy and sincerity in it – more so than in the sugared pill of "Mistletoe And Wine", for certain – and I can't begrudge its showing up here.
4
Comments
«
1
2
3
All
«
1
2
3
All
Add your comment
Top of page