24
Jan 11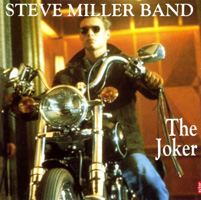 "The Joker"'s quick run at Number One is best known for one of the chart's notorious injustices – it tied in sales with Deee-Lite's "Groove Is In The Heart" and took the honours owing to a greater sales increase. Cue a certain amount of outrage and a hurried rewriting of the rules, which naturally have never been needed since. No conspiracy, just rotten luck, and "Groove"'s status as a nailed-on wedding floorfiller means it's as inescapable as any early 90s #1 anyway.
Even so it looks like a win for tedious old rock over playful frothy pop. But hold on, because the two songs have more in common than it might appear. At heart, both take a unit-shifting genre and inject it with some likeable silliness: Deee-Lite turned clubbing into a kitschadelic hip-hop party, Steve Miller turned easy 70s AOR into a goofball slacker stroll. And back in '73, Miller's silliness might have been the more striking – here's a seven-album chops-heavy veteran of the psychedelic jam scene making up words and going "Maw-REECE" and digging into nudge-wink 50s innuendo about peaches and trees.
But in 1990? It was just, you know, 70s rock. The Levis ad – of course it was a Levis ad – which brought the song back to consciousness uses the song as a marker of preposterous cool and is hard to work out. It seems pregnant with 90s knowingness, teetering on the point of laughing at itself but not quite willing to play that card when it knows that a hot biker riding rings round the squares will still – just about – sell as that. And the thing about the song is how Miller is having his laidback cake and eating it in a similar way – drawling out the words, wandering round the melody, then rolling into a self-mythologising chorus he must have known was a winner. He's not taking himself entirely seriously, but seriously enough to sell the song to guys who want to be the joker even if they don't know what a pompetus is.
At the time, of course I hated it – it was the past and communicated nothing about the now or the future. And it's part of a wave of covers and revivals that will drown the next year or so. But 90s pop wasn't going to be as straightforwardly futuristic as I might have liked, and "The Joker" fits into other strands. If Levi's hadn't raked it up, it might have ended up on a Tarantino soundtrack. It might even have found a place in The Dude's 1991 LA. It's that rarity, a revival that happened too soon.
5
Comments
«
1
2
3
4
All
«
1
2
3
4
All
Add your comment
Top of page