3
Jan 11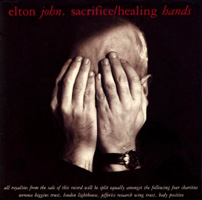 In the latest X-Factor series they did an Elton John theme week for the first time. Nobody sang "Sacrifice", probably because it's very glum and not terribly good. But the choices they did make brought out the unique qualities not so much of Elton but of Bernie Taupin, and the pleasure lay in hearing voices groomed for today's smooth-milled lyrics suddenly have to struggle with horny-back toads and wide-eyed warriors.
Taupin is a chewy lyricist, sometimes oblique, often awkward in the way he comes at clauses or ideas. That infuriating bit in "Your Song" where he changes his mind mid-line about whether to be a sculptor or not is pure Bernie. So is "maker of potions at a travelling show", for that matter. These lines give Elton's songs their character, but they can also make them unwieldy and doughy. And I think this is what happens in "Sacrifice", a bit. He's not being cryptic here – if you didn't know he was having marriage troubles you certainly wouldn't win a prize for guessing – but couplets like "Into the boundary of each married man / Sweet deceit comes calling and negativity lands" feel clumsy.
But then maybe clumsy is how they're meant to feel. The emotional landscape of "Sacrifice" is one where the individuals lack agency – only emotions and states are active: it's temptation, negativity, deceit, sensitivity that are doing stuff while the two people in a marriage drift listlessly towards its end. "Love Will Tear Us Apart" starts with a similar trick – "Routine bites hard… resentment rides high…" – though its protagonist makes a doomed attempt at connection whereas Elton/Taupin just glides on, numb and regretless.
So actually my problem is that the rest of the record – is filled with tells that this is quite a different kind of song. The production – plush and cosseting – suggests the kind of single you don't have to work very hard at to get the point of. The singing and songwriting is supposedly influenced by Percy Sledge, which I guess means Elton is reaching for the kind of wracked everyman storytelling Sledge did on "When A Man Loves A Woman". So for me the performance and the lyric are pulling in different directions. I guess all the "It's no sacrifice" stuff is meant to hint that yes, it is a sacrifice despite what's being said, but Taupin's done too good a job of showing us it's not. And I finish the single thinking – well, why do I care? Which, I suppose, is how the protagonists feel too.
(Oh, "Healing Hands" – it's more enjoyable on one or two listens than "Sacrifice", muscly rock-gospel with Elton in full-throated, barking, form. But I don't remember ever hearing it in 1990 – or since! – so I'm treating this as an A-Side in all but name.)
3
Comments
«
1
2
3
All
«
1
2
3
All
Add your comment
Top of page