2
Nov 10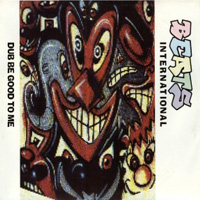 Collage in pop is often an exercise in surprise – finding things which shouldn't work together, but do. Throw too much into the mix and you can end up with a novel mess. But even then if you get the final element right it can salvage the whole creation. So let's imagine the recipe here. Norman Cook is by this point already a well-known DJ with plenty of mix-and-match pedigree – he's recently done some remixes of the Osmonds back catalogue, which the band are very wary of – and he's got a B-Side called "Invasion Of The Estate Agents", built round the skanking bassline from "Guns Of Brixton", with snippets of Ennio Morricone and the occasional scratch. He throws in a kind of kazoo solo-ey thing for good measure.
It's pretty good. It's five or six years too early, to be honest – what Cook's made, as he'll often make, is a fine example of the goofball, beer-friendly dance music nobody in 1990 knows as "big beat". Fun, lightweight, stuff. The track needs something else. So he puts vocals over the top – a singer called Lindy Layton singing an old SOS Band tune.
And it works. Oh how it works. The whole track flips over – now all the wacky bricolage stuff is supporting Layton's stoic ache: the Morricone highlighting her weary hurt, the bassline strong but unforgiving. And Cook adds one last thing, a sample of a radio DJ – "Tank fly boss walk jam nitty gritty…". The slick chatter frames Layton's song, turning the track into a cartoon cityscape for her to wander through and giving "Dub Be Good To Me" the solid-gold earworm it needed.
And the latent cheekiness of the track – its lifts so flagrant, its components so random – gives it a warmth, a sense of reassurance that despite Layton's desperation everything in Beats International's world is going to be alright. So "Dub Be Good" ends up rather less polished or poised than some of its obvious models – Soul II Soul, for instance. Norman Cook has never made dark music – sadness in his pop is something the rest of the track is there to cure. Later on that will work against him, but for now it's fine: there's room for comfort in pop as well as intensity, and what's also on offer here is the delight of seeing diverse elements alchemised into a confident, magnificent modern hit. Jam hot indeed.
(The kazoo bit is still ropey, but at this point who's counting?)
9
Comments
«
1
2
3
4
All
«
1
2
3
4
All
Add your comment
Top of page