13
Oct 10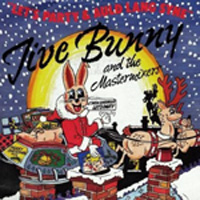 A Jive Bunny Christmas medley was at this point probably the most inevitable thing in the entire history of pop music, but that didn't make its arrival any less painful. And honestly, little could have prepared you for how brazenly shoddy "Let's Party" actually sounds.
Let's start with the backing – Joe Loss' "March Of The Mods" is a record with several fine qualities, all of which appear in the two minutes of it Jive Bunny doesn't use. The Mastermixers lift the march-time and riff and in their hands it immediately becomes a grim press-gang, redolent of the very worst aspects of the "party season": the heartless forced fun of Christmas. Listening to it is like being pressed against a wall by some wobbling, braying, sodden monster who excuses all offences with the sprig of mistletoe clutched in their clammy hand.
It's an introvert's nightmare, and we are all introverts compared to Jive Bunny. For the first time the record acknowledges his malign presence: the "March" sections are extended to make room for a satanic hypeman crying "JAAAAIVE BUNNEH!" every fifteen seconds. The producers also drop in the occasional sample – "What the hell is going on?" asks a voice, perhaps a tactic to make the record seem like a spontaneous explosion of zany hijinks to which only boring straights could possibly object. (We'll see this kind of thing again: Noel Edmonds, for one, is taking notes)
And at last we get to the sampled records. Naturally, having a theme handed to them on a plate and two decades of festive hits to weave together, the Mastermixes use a massive three songs. This isn't mixing so much as carving – chunks of Slade, Wizzard and Gary Glitter hacked into the track and bleeding at the edges: Frankenstein's monster in a kiss-me-quick Santa hat. The Slade section sounds like they're trying to get the right speed live; before the Gary bit ("TAKE IT AWAY GAZZA!") the MC goes "Wind It Up! Wind It Up!" as the tempo lunges upwards.
These are good records, of course – well, two of them are: Glitter is showing his eager-to-please side, not his swaggering one. But I think – just maybe – you'd get to hear them in full around Christmas without the intervention of the Mastermixers and their floppy-eared chum. There may have been worse records than this at Number One, but surely none more unnecessary.
1
Comments
Add your comment
Top of page