16
Sep 10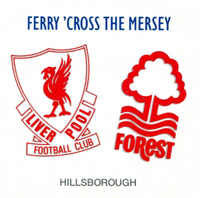 I wrote before that The Crowd's "You'll Never Walk Alone" became "a tiny part of a disaster's wider story, and left no mark on pop's". The same holds for "Ferry Cross The Mersey", but a thousand times more so. Most tragedies drop out of public memory even if the pain of those directly affected never quite scabs over. In this case the bereaved families have tirelessly and publically campaigned for further inquiries into the disaster, but even without that the story of Hillsborough has grown and spread, the tragedy and its aftermath changing other stories. Liverpool FC; recent British football history; The Sun newspaper; Scouse self-identity and the rest of Britain's attitude to Merseyside – if you wanted to think about any of these you would end up having to think about Hillsborough. And not just as a distant event, bundled up safely inside a word: to tell those stories you'd need to dig into what happened and how it was reported.
But this lies well outside the stated scope of this blog, particularly as this record is so irrelevant to that wider story, a footnote to a footnote. When Anfield remembers Hillsborough each year the fans sing – of course – "You'll Never Walk Alone". The supporters' sites chronicling the aftermath of the disaster don't mention this single, and why should they? It's an accidental and inevitable release: Hillsborough happened to happen at a time when a charity single was part of the reflex response to anything big and bad, so of course Gerry Marsden got out his rolodex again and put a group of Liverpool all-stars together in a hurry.
"Ferry Cross The Mersey" is one of his best songs – sentimental but heartfelt, and it captures the dreamy ache of homesickness very well. Lines like "hearts torn in every way", built to carry more general loads, sound clumsy and inadequate in this specific context, but what wouldn't? The song survives what the singers throw at it, and they throw a lot; the producers' virtues run to speed not gravitas; but like most charity records the aesthetics aren't the point and context is everything.
And in those terms "Ferry" has two positive points. The song was released a few weeks after Hillsborough, and after Sun editor Kelvin McKenzie had forced through his rancid "THE TRUTH" headline, printing unsubstantiated claims about Liverpool fans attacking policemen, robbing bodies, and so on. As is well known, the paper's circulation on Merseyside collapsed overnight. So in this context the choice of song and singers seems appropriate: a record of local solidarity as well as sympathy. The Sun had taken a lead in allying itself with charity records (see especially Ferry Aid, where its logo was on the sleeve) – I would be interested to see how it reacted to this one's success.
And "Ferry Cross The Mersey" avoids the fate of most charity hits – sounding (particularly with hindsight) like they're closing the book on the incident and giving tragedy an uplifting ending. Admittedly it's a close thing, but for me "life goes on day after day" bridges a gap between a platitude and something that moves closer to catching the remorselessness of grief and the will needed to live with it. Twenty years on, if you learned for the first time that there had been a number one in the wake of Hillsborough, you'd expect a different song and a weightier record. What you get is a flatpack charity production applied to probably the best old song a disaster single ever used.
4
Comments
«
1
2
All
«
1
2
All
Add your comment
Top of page