24
Sep 10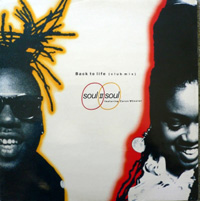 What's remarkable about "Back To Life" is its self-sufficiency: surrounded by records so very eager to please, this is a track which stands out for its restraint. It's become a 'classic' almost to the degree "Like A Prayer" has, but that record makes more sense the more public it is. Caron Wheeler, on the other hand, sounds more private and her song is more self-contained. It's an ultimatum of sorts, but not a desperate one: this is real life, not fantasy, and integrity is more important than drama, so take your time.
That's what the song sounds like, too: a voice, then a breakbeat, but no hurry. A switch to gospel vocalising just as that rich, rolling house piano line comes in – and then the strings…. there's so much going on, but so much space too, and for all that Wheeler's terrific performance centres the song, it's worth thinking about how Soul II Soul construct that space.
A breakbeat isn't just a steady rhythm or even a pattern, it's a time-loop. It gains a lot of its power from the combination of the illusion of humanity (the sample coming from real drummers) and the comfort of inhuman steadiness. But more subtly it creates interest by what's swept up in the loop, the crackles, ambient sound, and other instrumentation producers lift when they sample a beat. So here there's that tiny glisten of treble at the end of the breakbeat, adding bewitching colour to the track but also drawing discreet attention to its modernist, slice-and-splice origins. The way it sounds like there's been a cut between "Back" and "To Life" works in a similar way, and the video takes it further, cutting to and fro with abandon, never settling. This track was influential enough, but pretty much every dance performance on TV or video for the next five years looks a bit like "Back To Life".
The great moment in the song is vocal, though: the sweep upward for "I live at the top of the block / No more room for trouble or fuss". "Urban" has become a genre grab-bag at best, feeble racial coding at worst, but this is urban music – even without the beats, those lines are as vivid about city living as anything we've discussed since, oh, "West End Girls" (and that was from an observer's point of view). "Back To Life" sounds self-sufficient because it sounds local and placed. This points towards the upside of the phenomenon Marcello identified in the comments on Jason Donovan – the way the charts in the 90s became a parade of one-week wonders, thrown to number one by a fanbase. Manufactured and fan communities could act collectively to bag a chart-topper, but so could more organic or physical ones, and if the acceleration in the turnover of hits creates a lot of forgettable ones, it also creates several welcome flukes.
So in a lot of ways "Back To Life" is one of the great turning points on the road to modern British pop – in terms of importance, it's a 10. But my personal reaction to it has always been a little less enthusiastic, mostly because it gets overshadowed in my listening. The stuff it might serve as a gateway to – the contemporary world of hip-hop – seems more exciting, and the music it helped inspire perfected its ideas: "Back To Life" never chills or transports me like "Unfinished Sympathy" can. But very little does, so this is hardly a criticism: on its own terms, "Back To Life" is a huge and vital success.
8
Comments
«
1
2
3
4
All
«
1
2
3
4
All
Add your comment
Top of page