5
Jul 10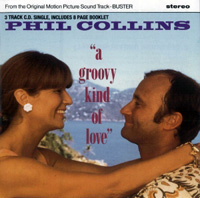 All cover versions flirt with anachronism but in this case it's baked in before the record's even left the sleeve: that word "groovy". Linguistically switched-on for 1965, the Mindbenders' brightly confident original now sounds caught in time: pop loosening up a little but still riding a beat group fad. Phil Collins, on the other hand, approaches the word and the song hesitantly, as if reaching for long-unfamiliar slang of his youth to describe an idea – love – which also might be lost somewhere in his past.
As I've said before this was pretty much the point of Phil Collins in the 80s, a stolid everyman who could channel blokish emotions without ever risking his rather stodgy masculinity. A quick rewind back to Chris De Burgh tells us how awful this approach could be, and for the second time Collins has hit the top with a cover that lands safely on "bearable". In fact "A Groovy Kind Of Love" gets a more interesting reading than Phil's bluff charge at "You Can't Hurry Love": he sounds like a man remembering a song and a feeling, rather than thumping away at one.
The video makes this meta-cover approach more explicit, with the extra twist that Collins seems to be in a darkened studio-cum-prison, remembering his own performance in Buster. Phil played the title character, train robber Buster Edwards: maybe the film, which I've never seen, moved away from a "loveable rogue" approach but the publicity (and this record) surely didn't. It's ultimately let down by its arrangement, swamped by echoed pianos and synthesised strings. The strings are particularly unpleasant, evoking not the brash world of 60s pop but the near future of the blockbuster rom-com. If Phil Collins could turn 60s pop into AOR, why couldn't anyone else with a soundtrack to promote do the same? The consequences, some years down the line, will be thoroughly un-groovy.
4
Comments
«
1
2
3
4
All
«
1
2
3
4
All
Add your comment
Top of page