17
Jun 10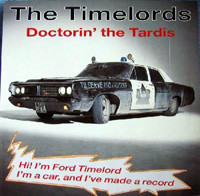 The Manual – the book Bill Drummond and Jimmy Cauty wrote after this record went to #1 – is an essential read. It tells you a lot about the music business in the late 80s, a bit about the country in the late 80s, and it has many sharp things to say about Number Ones and their qualities. Plenty of glib things too, but entertainingly glib. You can get a PDF of it here and anyone with an interest in this site who hasn't read it should prepare themselves for an enjoyable and sometimes infuriating hour or so.
About the only thing it won't tell you much about is this actual record. When introducing their "Golden Rules" the Timelords gleefully admit that "Doctorin' The Tardis" is an exception to almost all of them. Use the latest house beat! They don't, they go for an old Gary Glitter rhythm. Have a straightforward title! Theirs is a pun. Make the lyrics universal! Oh, come on. No, the hit may have given them the excuse to write a book but it barely even pretends to work as rationalisation: this is a banging novelty record and doubtless put together with no more or less cynicism and excitement than these things ever are.
That's not to say their instincts weren't sound. "Doctorin' The Tardis" wasn't the first recent attempt at doing a Doctor Who novelty record. Hi-NRG producer and big-time fan Ian Levine, a man not without hitmaking experience, had made an effort a couple of years before with "Doctor In Distress", a song protesting the show's then impending cancellation. This was a mortifying flop: Levine cared way too much and the public cared way too little. So even though Doctor Who was still limping on by the time Drummond and Cauty made "Doctorin'", the record uses it without having anything to do with it*.
To understand this, imagine a Doctor Who equivalent of "Star Trekkin" – lots of jokes about stairs, scarves and screaming. I might have thought it was quite funny (I'm a Who fan, as you're probably realising) but it wouldn't have been nearly as good as this. There's only one actual gag in "Tardis" – the Daleks grating "Dosh Dosh Dosh! Loadsamoney" – the rest is straight-ahead dumb high-impact pop, and works because it takes only the most iconic sounds from Doctor Who and uses them with almost no reference to the show. Dalek voices, of course. The wheezing, groaning sound of a TARDIS landing. The imploding cliffhanger noise. The theme tune's hook – using Ron Grainer's synthed-up 1980 arrangement rather than the eerie wobble of Delia Derbyshire's original. That bassline – the theme's secret weapon (if only someone would let Murray bloody Gold know it…)
Ahem. The Timelords mix this stuff in with the pop sounds of 1974, the year of glam rock and Davros, scarves on the Rollers and scarves on the new Doctor, glitterbeat and "Blockbuster" airhorns. It's a companion piece to "Theme From S'Express" in that sense and just as good – part of the same rediscovery of the 70s, beckoning the boy gangs of yobs and nerds onto the dancefloor, the ones Mark Moore didn't invite to his party. You could put it in a line of descent from "Hoots Mon" and "Mouldy Old Dough" too – novelty monsters which catch a time more truly than some of the serious songs do.
Can I separate my love of this record from my Who fandom? Not really: at Poptimism in 2005, the night before the series came back, we played it – we had to – and Steve mixed it in with a 1998 number one by a future Doctor Who star. It was a great moment. But maybe I can separate it – the moment worked not just because we were excited about the show's return, but because the novelty record and the teenpop track worked superbly together. I like to think I'd enjoy "Doctorin' The Tardis" if I'd never watched a minute of Doctor Who.
*(or only in this sense: sampling – the engine of the JAMMS' work and the presiding spirit of The Manual – is time travel, fishing sounds out of the past and casting them into the future. And more: every sample works like a TARDIS, a few bars of music which when you open them up are far bigger on the inside, gateways to new songs and worlds if you're willing to make the trip.)
9
Comments
«
1
2
3
4
All
«
1
2
3
4
All
Add your comment
Top of page