19
May 10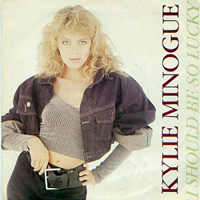 They did their best work before her, and she ended up doing her best after them, but nonetheless Kylie Minogue was Stock Aitken and Waterman's muse: the Dionne Warwick to their Bacharach and David, the Girls Aloud to their Xenomania, the point where their particular vision of pop and its place in the world found definitive expression. They'd worked out the basics – ordinary stars who embodied optimism and hard work, songs that were a distillation of everyday feelings, a pop that arrived quickly and left quickly, that courted its market shamelessly and gave a finger to the rest. But establishing the likes of Big Fun, or even Mel and Kim, with the public still took work. Ordinary wasn't quite enough – people needed stories in their pop. That's what Kylie brought.
Not her own story really – not yet at any rate – but a public profile based around her role as Charlene in Neighbours. The core PWL audience knew Kylie Minogue already, liked her and believed in her. The British audience for her on-screen wedding would outnumber Australia's entire population. There was no real need to match the songs to the character – Kylie was on her way out of the soap anyway – but the alignment of PWL and the cross-generation pop culture sensation of Neighbours was exactly what Waterman and company needed. SAW's singles would be like the daytime soaps – immediate but familiar, unmissable but regular, full of sunlight, lively and breezy and cheap.
Kylie Minogue was their perfect vehicle. Maybe it's because "I Should Be So Lucky" comes after two bubblegum records whose singers strained for affect but her chirpy, thin voice, which I normally find irritating, cuts through "Lucky" with conviction and clarity. She sounds as unschooled and likeable now as she did back in 1988 – considerably more likeable if you're me, who was exactly the wrong gender, age and taste for her and reacted to PWL with real venom.
Misplaced venom, though? I'm honestly torn. PWL worked to slash the mystery and theatre away from pop, and to reaffirm its connection with the (often much wider) audience light entertainment offered. They scorched British pop's landscape, and the kind of fantastic, futuristic, preposterous groups I'd fallen in love with in the early 80s grew still thinner on the ground. 1988 was the nadir of my engagement with pop music, and while I never cut the cord entirely it was another decade before I got really enthused with it again.
Ideas like "mystery and theatre" are easy to invoke, though, and far harder to actually manifest: they begin to act as a wagged finger as much as an inspiration. By the late 80s there was a conceited laziness around much of pop and rock – we've seen plenty of examples of it in Popular and there's more to come. PWL's cheerfully functional records worked against that. The rot had set in on early 80s creativity long ago, no thanks to Stock Aitken and Waterman. So looking back on the start of their own "imperial phase" these records provoke mixed feelings. On the one hand they anticipate the clarity and craft of a lot of 00s teenpop – much of it also performed by actor-singers who knew how to sell a situation. On the other hand they're a direct link to the gross cynicism of Simon Cowell, beside whom Waterman looks like Joe Meek.
"I Should Be So Lucky" has something of each. The first minute or so is an uncomplicated delight – thanks mostly to Kylie and how she pushes the song forward, but also thanks to the song itself. It's first playful, then dreamy, then suddenly sad, and then it tumbles into the chorus and everything else in your brain is brutally erased. Then it does it all again – but the payoffs are smaller, the chorus more grating, and more grating still, and the chorus seems to become the whole world… and then there's a deft instrumental break, another chorus, and the song ends. Every time I play it there's that same progress from freshness to ruthlessness. But the freshness entices even though I know the ruthlessness is coming, so for now Kylie and SAW are just – just! – still on the side of good.
6
Comments
«
1
2
3
All
«
1
2
3
All
Add your comment
Top of page