5
Feb 09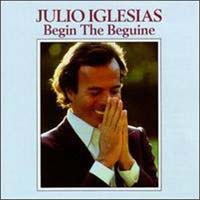 It seems to me there's no such thing as a bad motive for buying music. The exact same impulse – to brighten up a drizzly British autumn with the sounds you met on your summer holidays – has been responsible for both the most fearsome novelty hits and the most transformative movement in British youth culture this side of the 60s. Julio Iglesias' reading of "Begin The Beguine" sits somewhere between these two outcomes.
Julio himself puts in the sort of performance you might expect: corny to my ears, catnip to the intended audience. The song is a notoriously wandering one and he approaches it as a philosopher of love, letting the dance take him where it will but without ever losing his sureness of touch. Just as Aznavour found a British audience because he sounded so utterly French, so Iglesias fits a latin lover archetype: tenderness concealing strength, nobility masking a brooding passion.
"Good for what it is", in other words. But the arrangement is something else – supper-club disco lit up by that falling-star riff and enriched by a thick gauziness redolent of slow Mediterranian nights. It makes "Beguine" sound like a proto-Balearic record – one aural squint away from the Avalanches!
Well, maybe. I'd prefer to think it's the taste-expanding Balearic spirit – rather than my advancing years and softening mind – that's turned my least favourite #1 of the time into something I now find gloopily enjoyable.
5
Comments
Add your comment
Top of page