19
May 08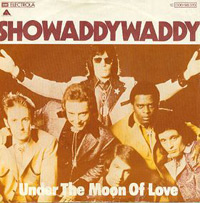 A recurring theme on recent Popular comments threads has been the idea that one track or another represents "why punk had to happen": a feeling – easy, perhaps too easy, to identify in hindsight – that pop and rock had stagnated or slipped into irrelevance. The phrase is slightly weaselly – it suggests that bad or dull records somehow caused punk, whereas more likely they provided the background conditions for it to be embraced. Anyway, here's another candidate, at Number One when the Sex Pistols were first nosing into the charts and when John Peel was publically embracing the new music.
Showaddywaddy's rock and roll revivalism – covering obscure numbers like this and more fondly recalled classics – is bouncily riskless, a jolly dead end. It's the culmination of a turn back to rock'n'roll that's been gathering pace for most of the decade, from the half-remembered inspirations of Roxy and T Rex, through the muscular callbacks and pantomime references in glam, and ending up at Showaddywaddy's honks and vamps and put-on voices.
But the problem is that punk is also born – in part – out of that opening up of rock'n'roll and the 1950s as a well to draw on: viewed through a particular lens the back-to-basics, DIY spirit in punk is skiffle run through the greaser aggression of the Teddy Boys and rockers. Showaddywaddy are as effective an alternative to progressive "bloat" or complexity as punk was – they just seem like a less honourable one.
Their alternative won in the end, though: making soundalikes for 20 year old (or older!) records isn't disreputable any more, far from it. I've seen pop-loving comrades digging tracks this year by Duffy, Alphabeat, and Annie which keep the revivalist spirit burning bright. Turns out it's a Showaddywaddy world after all.
3
Comments
«
1
…
3
4
5
All
«
1
…
3
4
5
All
Add your comment
Top of page