8
Jan 20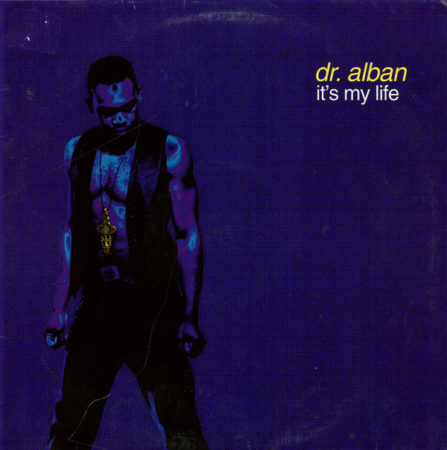 (Reached #2, September 1992)
In Britain, Alban Uzoma Nwapa was known for two things. This song was one of them. The other was his dental practice – teeth had brought him to live in Sweden, and music paid the dentistry school bills. A dip into Google suggests there are now many rapping dentists – there are many rapping everythings – but Alban was the first, and the combination seemed amusing. A touch provincial, maybe – it had the same vibe as when England go up against Andorra or the Faroes in football, and the commentators hold up day jobs in the post office or the doctors' surgery as the bona fides of plucky authenticity.
What did it mean in practice? When you're listening to Dr Alban you're listening to a man in his mid-30s, who's chosen a tough career in a new country and made a success of it. A man with little to prove, you'd say. On "It's My Life", the intro promises drama. Producer Denniz PoP layers in the sounds one by one; a ringing house piano line, a chirping keyboard rhythm, the bass, the hi-hats, some pseudo-gospel humming, a string part and a backing vox bellow, all in crescendo, and then – 
"It's my life. Take it or leave it."
Alban's flow – on "It's My Life" in particular, but on his other European hits too – is disarmingly soft-spoken. He sounds like he's issuing this plea – for people to think before they assume things, to take a wider view, to give him a little peace – for the thousandth time, and his tone is the tone of a reasonable man driven more to contempt than anger by the fact he has to keep saying the same thing. "STOP bugging me STOP bothering me STOP fussing me" he raps, aware they won't, and aware, maybe, of what they will say and do if he lets the reasonable tone drop.
Denniz PoP's job is to turn this exhausted diffidence into a pop smash – the record's beauty is in how he does it while leaving Alban's dignity untouched. Alban's care not to let his control slip gives PoP licence to do it for him, with a cararact of torrid disco angst from the backing vocalists, whose wailing repeats of Alban's beat-down lines give the record the emotional (and dancefloor) climax it needs.
Don't criticise what you can't understand – there have been lots of songs, before and since, which take the same basic line as "It's My Life". But none of them have quite its weary tone. Songs of empowerment tend to be proud, or self-justifying, or triumphant, flinging the truth of the singer's existence back in the world's face. "It's My Life" is not one of those. Alban offers no specifics and no justification, and the power of his performance is that you can't tell whether he's acting from high principle or bleak experience. 
8 out of 10
Comments
Add your comment
Top of page