6
Dec 21
After a year off for some reason or other (the online pub crawl was lovely but not this), here is  the 22st Annual Between Christmas and New Year Pub Crawl (ABCANYPC).
And this event is tentative, subject to changing rules and just my feel on how safe any of this might be (I myself may miss it being subject to quarantine rules returning from Spain). Its a friendly gathering, its not about drinking, pop in and pop out as you wish and don't get in anyone's face.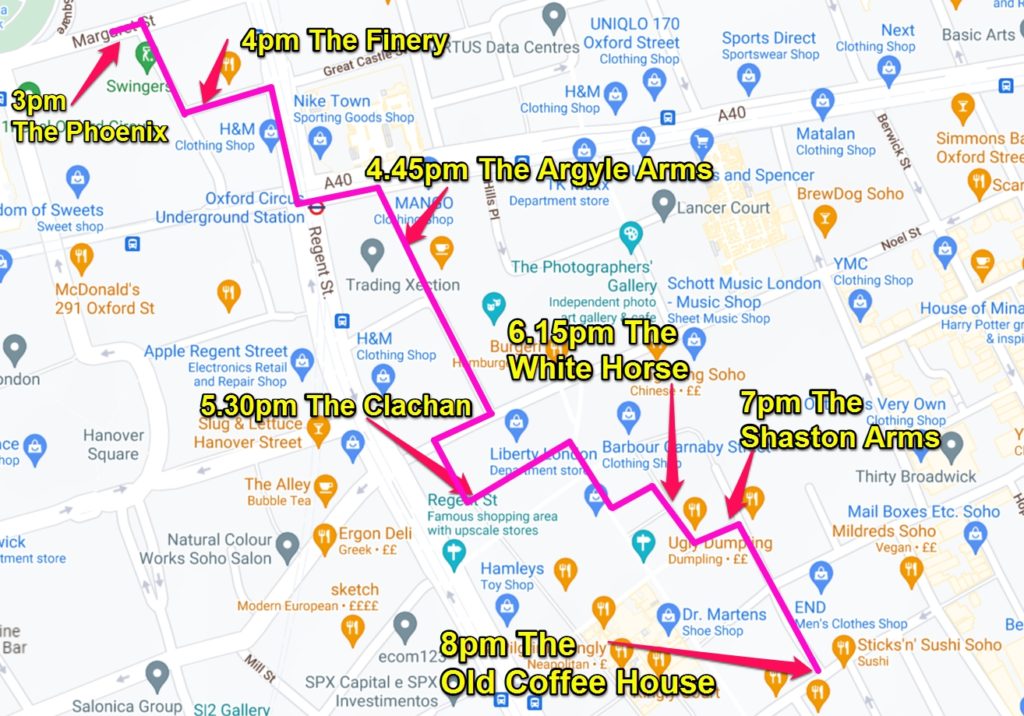 Also note that unlike the last 17 Pub Crawls – this will revert to the legacy date of Thursday  30th December, New Years Eve-Eve.  
Anyway looking at the map, and seeing what we have and haven't done, there is a furtive line around Oxford Circus and Soho which hasn't been plucked – and so I give you
The Oxford Circus Wobbly Staircase
3pm The Phoenix
4pm The Finery
4.45pm The Argyle Arms
5.30pm The Clachan
6.15pm The White Horse
7pm The Shaston Arms
8pm The Old Coffee House
All are interesting architecturally, very easy to get to and out of. So watch this space, but hopefully I'll see you there… Unless – you know – quarantining.
Comments
Add your comment
Top of page