5
Jan 19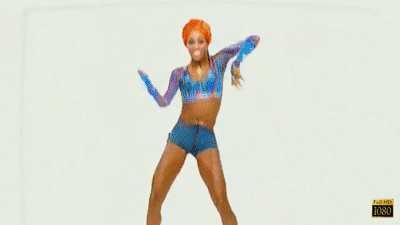 "Greetings! It's me, 90's summer dance craze The Macarena. I've never really gone away, as you must surely know: the muscle memory of hand flips and hip wiggles is ingrained into the very fabric of your DNA, to be passed down to your heirs and their heirs for many centuries hence, waxing on and waxing off, a ritual movement surging through their synapses that they can neither explain nor resist, all meaning lost in time save for the mythical figure of The Boy Whose Name Is Victorino and a vague feeling it has something to do with a Brazilian football stadium. Beat that, Drake! Welcome to the 2018 Freaky Trigger Readers' Poll…"
Thanks, The Macarena. Let's get cracking!

40. U.S. Girls – "Rosebud"

Dreamy indie made by what wikipedia tells me is a solo artist. Does grammar mean nothing to the young people these days? The video takes a look at what happened when all the birds from Alfred Hitchcock's "The Birds" were rounded up and put in prison in Canada.
39. Clean Bandit ft Demi Lovato – "Solo"

Let's hope Demi is on the road to recovery – the performance of this on Xmas Top Of The Pops was not quite the same without her. In the meantime, enjoy the daft video and quacking noises that make "Solo" one of Clean Bandit's more fun singles.
38. Kacey Musgraves – "Lonely Weekend"

A pop-country lament that stays on the right side of the self-pity line. Kacey doesn't care if Monday's blue, Tuesday's grey and Wednesday too, however she is indeed chilling on Thu/Fri/Sat and on Sunday for good measure.
37. George Ezra – "Shotgun"

Dudes who sing like they've swallowed a golf ball are not usually my cup of tea, but I have warmed to George since he was such a good sport attempting to sing this on Vic'n'Bob's Big Night Out a few weeks ago (Vic and Bob kept interrupting to offer him a cheese platter, and were doing the hoovering in the background). The video makes me feel a bit giddy though – watch out for baobabs, George!
36. Nite Jewel – "On Your Own"

Featherlight electro disco in the Little Boots vein, complete with spoken-word interlude.
35. Ciara – "Level Up"

I started doing pilates this year, however it would be a stretch (geddit) for me to say I'm anyway near Ciara's impressive levels of core strength, which are so good she has written a song about them. Said song may or may not feature Sir Patrick Moore on the xylophones.
34. Kero Kero Bonito – "Only Acting"

If you haven't heard KKB's 2018 foray into GRUNGE then brace yourself, it's quite the change of direction. "Only Acting" recounts an attempt by Sarah to audition for Hollyoaks, when she might have been better suited to playing the girl coming out of the telly backwards in Ringu.
33. Sigrid – "Strangers"

Is it wrong to be jealous of a small child's collection of mid-20th century Danish furniture? That stuff goes for hundreds of pounds in the antiques place in Crystal Palace.
32. Tune-Yards – "Heart Attack"

I find this weirdly stressful to listen to! A bit like "My Country", there's a lot going on, like having a bunch of emails popping into your inbox while keeping track of two Whatsapp group chats at the same time, then your Mum decides now is a good time to ring you about arrangements for Christmas 2019.
31. Arctic Monkeys – "Four Out Of Five"

Earlier this year, this came on the car radio on the way back from Sainsbury's, and I confess I burst out laughing so hard it was a good job we were stopped at traffic lights. It is meant to be funny, right? I gather that the album is wholly dedicated to Alex's girlfriend's dog, so draw your own conclusions. At least there's some nice shots of Jimmy Nail going on holiday to Castle Howard in the video.
#30-21 coming soon!
Comments
Add your comment
Top of page