23
Jan 19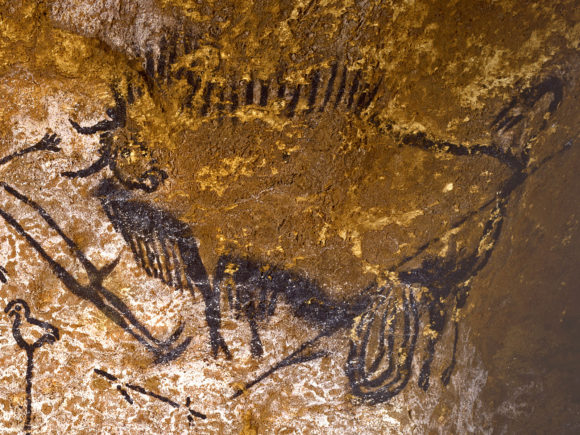 "Bonjour dudes, it's me, the Lascaux Cave Paintings, specifically the one where a bull with a spear through its arse is goring a bloke to death while a chicken on a stick looks the other way. Thanks to my 17,000 years of experience in human culture I've been asked to introduce your 'Déclencheur Bizarre' top songs of 2018, which I'd imagine to be similar in tone and lyrical content to the neolithic ditties my creators hummed as they daubed a mixture of blood, mud, iron oxide, charcoal and ochre into the shapes of animals they depended on for survival and revered as primitive gods. Unfortunately when I was opened up to the public in 1948, exposure to the elements caused layers of fungus and lichen to develop on my walls, so I'm a bit sourd in one ear now. Nevertheless as the test of time is the only true measure of artistic achievement, I can safely say that the pinnacle of cultural content is a massive bull with a spear through its arse, goring a bloke to death while a chicken on a stick looks the other way. Ed Sheeran needs to pull his socks up if he's going to compete with this bad boy."
Thanks Monsieur Taureau Rouge! Ed does feature below (sort of) but I'm not sure he'd be happy about it. Let's have a look at the Top 10.

10. Jessie Ware – "Overtime"

Winner of the 2018 'Sounds Most Like Adamski" Award. Add a few horns and you could have yourself a Space Jungle, Jessie!
9. Daphne & Celeste – "Alarms"

I greatly enjoyed Daphne & Celeste Save The World, and this slice of filter house was on my regular rotation for most of this year. D&C are obviously grown women now but I admire how they aren't afraid to keep the childlike joy in their music – at their London gig in March (where I'd hazard 70% of attendees had a Livejournal account at some point) Celeste made balloon animals on stage for us, while this video sees the duo taking Pokemon Go to the next level. Delightful.
8. Daphne & Celeste – "BB"

When I played the entire top 10 in the kitchen the other day, Grumpy Co-Habitant said (and I quote): "This is the worst song here by some margin, and I *like* Daphne & Celeste." I like to think they made it annoying on purpose as a tribute to the song's subject matter.
7. Robyn – "Missing U"

I have never been able to warm to Robyn because I am still embarrassed about publicly mixing her up with Robyn S many years ago. They both had songs called "Show Me Love"! What was I meant to think? Anyway, this sounds pretty much par for the Robyn course – if you like her other stuff this'll be up your street.
6. Robyn – "Honey"

Whereas this one feels like I'm in a long dark tunnel (with a bright light at the end?) and it's yet another artist double for this poll! Robyn's top two entries were separated by just 2 points in the end.
5. Cardi B – "I Like It"

One of my 2018 faves. So many good lines! I think my favourites are, in no particular order: "Beat it up like piñatas"; "I run this shit like cardio"; "que pa'l picor les tengo Claritin". I feel you dude – hayfever season is but a few short months away.
4. Kacey Musgraves – "High Horse"

Hi-de-hi hoo-oo-orse! Sheriff Kacey shows a dude where the city limits are via the medium of a banjo-powered disco.
3. Christine & The Queens ft Dâm-Funk – "Girlfriend"

Slick G-Funk, a West Side Story/Lunch Atop A Skyscraper pastiche video and stuttered swearing – I love this. Check out the French language version of the album if you haven't already.
2. Ariana Grande – "no tears left to cry"

This year's poll has been a minefield for capitalisation, I tell you. Ariana's vocals really shine here, and while the video is another queasy rotate-a-thon, the actual backdrops are quite mesmerising.
1. Janelle Monáe – Make Me Feel

RIP Prince! A great tribute though I admit I got a bit sick of it by June and took it off my 2018 playlist. My opinion doesn't matter though – you excellent readers voted this as #1 by miles and it was at the top of the spreadsheet pretty much from day 1.
That's your lot! Thanks to everyone who voted, we genuinely couldn't do this without you (there'd be a lot more techno if it was just me). There's a Spotify playlist of the full top 40 here. Stats and album picks to follow in the comments.
Comments
Add your comment
Top of page