6
Jan 18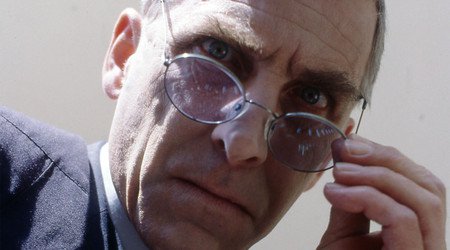 "Hello children. I'm the Demon Headmaster, beloved patriarchal figure of note who wants nothing more than to educate keen students in the most efficient, hypnotic manner possible. If getting results requires a subtle Orwellian undercurrent to my methods then so be it. Anyway, I've been asked by the board of governors to step in and overhaul this site. December may have seen the highest monthly posting rate since June 2010, but you slackers running this place are capable of so much more! With some… gentle persuasion… I will increase this blog's SEO metrics and fulfil my ultimate goal of taking over the worl–… I mean… pivoting to video! Mwahahahaha!"
Thanks, Demon Headmaster! Freaky Trigger is a marvellous site and this is the best poll I've ever been to. Let's get cracking:

40. Spoon – "Hot Thoughts"

What better way to kick off the countdown than with some INDIE. Mr Spoon's central heating is on the blink, and all he can think about is maybe one day having warm toes again. It must be tough living on the moon.
39. Fever Ray – "To The Moon And Back"

Continuing the cutlery theme, The Knife's Karin Dreijer is back after eight years off, this time with some burbly SAUCE oo-er missus (video borderline safe for work but don't say I didn't warn you).
38. Methyl Ethel – "Ubu"

More indie! This time the guitar sounds like early doors The Cure, and the singer's expression in the video also has a bit of the Bob Smiths Circa 1982 about it. The chorus is taken directly from the words of my mother on my 17th birthday, after I came back from Trim'n'Proper with approx 14″ less hair than before.
37. Harry Styles – "Sign of the Times"

Now that coat/pullover combo looks warm, doesn't it? Mr Spoon would be jealous. Although our Hazza does look a bit like Darren from Hollyoaks in this vid, you've got to admire the Peter Pan helicopter chutzpah employed here, well suited for such a bombastic debut solo single. I hope he got a free National Trust membership out of all that dangling over scenery.
36. Algiers – "The Underside of Power"

Algiers are new to me – wiki says they're a post-punk band from Atlanta, though you can hear a Motown influence in there, with a bit of "Ghost Rider" in the mix for good measure. Franklin James Fisher's vocal is the star though, rousing and desperate in equal amounts.
35. Susanne Sundfør – "The Sound of War"

Sue's gothic cathedral electro-vorge did pretty well in the 2015 poll, so for her follow-up she has gone in completely the other direction with a sparse rural folk melody. But don't worry, it's still about death! "The Sound of War" is a stunning three-part epic with a lament, a drone massacre and a glimmer of possible resurrection to round things off.
34. The Killers – "The Man"

Brandon goes to Vegas in a multitude of different guises, only to be undone by performative masculinity every time! Cheer up Brandon, this tune is a banger no matter what the societal constructs of gender dictate!
33. The National – "The System Only Dreams in Total Darkness"

The highest-placing band beginning with 'The' in this year's countdown! The video has some good suggestions if you're considering a blue bathroom tiling scheme, I think B&Q will do you a reasonable approximation?
32. Sunny Sweeney – "Pills"

No proper Youtube vid for this one, let's hope this Spotify embed works. Poptimist fave Sunny returns with a cynical story of a reunion with an old flame – she's moved on but he clearly hasn't. Will she get sucked back in?
31. DJ Khaled ft Justin Bieber, Quavo, Chance and Lil Wayne – "I'm The One"

The only video this year to feature croquet AND vaping? Our ensemble cast has gathered at Khaled's tropical gaff for some horse riding and product placement, with a gentle remix-to-Ignition click backing and a chipmunk earworm hook. Other things to look out for in this video: Biebs dressed as 2002-era Eminem, Lil' Wayne mistaking a bottle of booze for a phone.
#30-#21 coming soon!
Comments
Add your comment
Top of page