9
Jan 18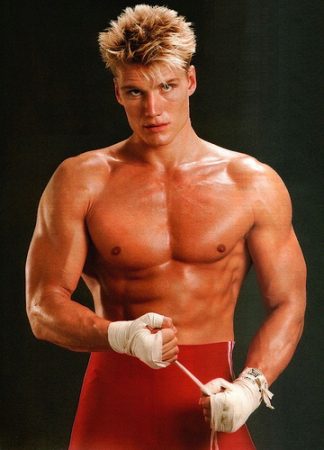 Hi, I'm Captain Ivan Drago, the Muscles from Moscow and still Undisputed World Heavy Champion if you were the kind of person who wandered out of Rocky IV halfway through and never saw a Rocky movie, or a Creed movie ever again. And I can tell you my life as the most beloved person (behind the most committed communist leader ever Mikhail Gorbachev) in the Union of Soviet Socialist Republics is peachy keen, particularly if you also have avoided all media from the late eighties onwards. As I have. After all I train 23 hours a day, only leaving a few moments to be pumped with steroids and varnished. But apparently it is 2018, and the above is a Momentum communist fantasy, so I shall instead retreat into watching recent movies to distract me. Has anything good come out recently?
Thanks Ivan, and for what its worth, I never believed that Rocky could beat you. Even with James Brown's help. Nevertheless without further ado, here are the films that you lot thought were the good, but not top thirty good which is just the kind of films Ivan Drago deserves.
40: Paddington 2

The first (but not the last) sequel in our list, and a delightful continuation of the previous outing. Origin story out of the way, they still find a way to put the bear in peril, but let his thorough decency win the day. A sterling supporting cast, and Ben Whishaw's perfect voice acting ground it, but its the committed animation (particularly in the slapstick sequences) and an excellent piece of comic acting from Hugh Grant that make it.
39: The Villainess

Absolutely brutal, bonkers South Korean take on Nikita, which throws everything (including a kitchen sink) at the camera – not least in its opening and closing POV single take sequences. Some of the effects are a bit cheap, some have to just be stunts where people are getting hurt. Its a pity there is a forty minute romance section in the middle that slows it all down, because the rest is the crazy,action treat of the year.
38: Murder On The Orient Express

AKA Kenneth Brannagh's All Star Moustache Supporting Ensemble. Come to see Johnny Depp get murdered (yay!) and then wait to see Hercule Poirot's moustache solve the crime in a CGI train. The culprit is obvious if you remember any previous versions, or you realise who has a motive to kill him (remember: its Johnny Depp), but its not without its Sunday matinee charms.
37: Silence

Silence came out in the UK on New Years Day last year, so well remembered film voters! Scorsese's powerful take on Shûsaku Endô's novel of Portuguese Jesuit priests' challenge of faith against a Japanese clamp down on their existence. There is a little dodgy accent work, and like most recent Scorsese it plays long, but it is beautiful to look at and has some real philosophical heft, particularly when Liam Neeson gets a chance to do some non-running and shooting acting for a change.
36: Spider-Man: Homecoming

If the defining connective tissue between the Marvel Cinematic Universe movies has been their ease with humour, the 2017 batch have been happy to be at their core comedies. No-one wanted another Spider-Man origin movie, so they take the radioactive bite as read, but do play a smaller, high-school comedy around it. Perhaps it didn't need quite as much Robert Downey Jr as it got, and it still has the standard final act escalation problems, but a Keaton has form playing a Birdman, and Tom Holland is a very appealing, and actually young, Friendly Neighbourhood Spider-Man
35: Split

On the one hand a bonkers over-acting tour de force from James McEvoy, in which he plays a kidnapper with 21 distinct personalities holding some teenage girls captive pending torture and death. On the other hand it is a stealth entry in an unwanted Shyamalan Cinematic Universe promising nothing more than poorly made sequels in the future. Stupidly entertaining I guess.
34: A Ghost Story

Casey Affleck dies, and stands under a white sheet for ninety minutes. After this year, probably not a bad idea. Rooney Mara grieves, eats a pie and gets on with her life. And the ghost just hangs. David Lowery's meditation on eternity and loss shouldn't work on paper, but works in practice as it is happy to let the audience laugh and then come to the tone and pace of the film. A gentle masterpiece (even if some of these votes might be sympathy votes for people who have now realised how good his previous film, Pete's Dragon was).
33: The Big Sick

The surprise rom-com of the year, Kumail Nanjiani and Emily Gordon's adaptation of their own medically compromised meet-cute manages to dodge most of the pitfalls of culture clash comedies, and the associated pitfalls of Judd Apatow produced affairs. Light, but not without weight around the medical sequences it benefits from excellent performances from its four leads and enough resistance from romcom tropes to make its ending feel earnt.
32: Raw

One of this years most visceral movies, Raw gives us a timid vegetarian veterinary student who due to the kind of hazing and orientation I wouldn't allow at my college gets a taste for human flesh. And impressively, gorily so. Garance Marillier is perfect as the heroine unsure of her new tastes, but at the heart the debut writer/director Julia Ducournau has created a icky horror satire which was one of the years best surprises.
31: Dunkirk

A surprisingly low placing for Christopher Nolan's best recent film, Dunkirk is a really well made set of vignettes potentially badly organised, but couched in some extraordinary sound-design and cinematography. Definitely worth seeing on the biggest screen possible, it manages to summon the fear of waiting, being penned in with nowhere to go in a slightly more pleasant way than being locked in a screening with the Emoji Movie.
We'll be back later in the week with ten more films that you thought were better than these ones.
Comments
Add your comment
Top of page