1
Dec 17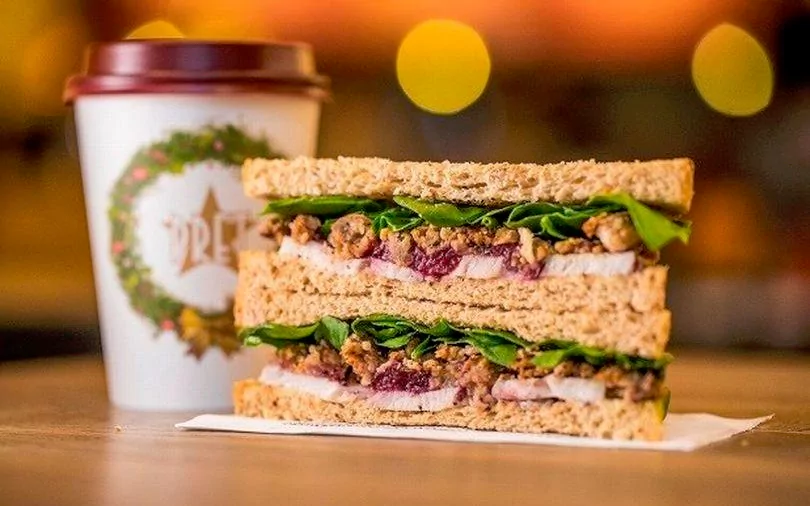 We dispatched our lunch-facing elves far and wide across the face of the wrapped-food (with coffee) sector, to report who does what best on an opening-a-new-little-door-every-day basis. And by the finest of all invented traditions, the xmas season begins with the first sighting (and eating) of the FESTIVE PRET SANGER aka the CHRISTMAS LUNCH, truly the anchor of the form.
Here is my report in full: "Travelled all the way to Angel to attempt this (and for another reason) but they had run out so I had a Jambon Beurre instead." For all its virtues, Hackney has no Pret and that's where I'm working from at the moment so I don't pass one every day the way I did in previous years. No Free-Range Turkey Crumbly Pork Stuffing Crispy Onions Spinach Port & Orange Cranberry Sauce Mayo Seasoning for me (yet): no "thick slices of norfolk free-range turkey breast on malted bread with a dollop of slightly tart port & orange cranberry sauce […] served with pret's herby stuffing — made with beautifully seasoned minced pork, streaky bacon and apricots[,] topped with crispy onions and fresh baby spinach… "
My elf-disgrace is your opportunity: FT readers now have 23 days to jump into comments. Should fresh baby spinach even have become a trimming? Does the current C.Lunch deviate in quality from those of earlier years (such as that pictured, from 2016). Who will comfort Herbie Stuffing?
(sukrat's correct opinion, theoretical mode: the spinach is good not bad, in a structural as well as a gustatory sense, it holds everything together, like the cellophane in an old-school shirt collar)
*for xmas read wobs throughout obv
UPDATE FROM SOMEONE WHO ACTUALLY HAS TASTED THIS THING (courtesy magnus): "Crunchy stuffing and cranberry go hella together, but they only come up in combination during sporadic bites, and otherwise the overall impression was eating a standard, decent but not especially festive turkey sandwich. In fact the main outcome was yearning for the brie and plum pickle Wobs sandwich of 2006, complete with a mild crunch of pine nuts. How I miss that sandwich…"
Add your comment
Top of page