6
Jan 17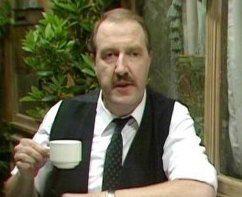 "'Allo. My name is René Artois, cafe owner and reluctant assistant to the Resistance. You may be wondering what I am doin 'ere, at the top of a German communications tower, 'olding a large knockwurst with a fuse coming out of it (use your imagination – Picture Ed). It is a good question, one I am currently asking myself. As you remember, Michelle of the Resistance, 'er with the beret, 'ad an 'are-brained scheme to steal the secret plans for the V2 rocket. I am to transmit the plans to Edith and Yvette who are sat atop that distant tree, 'olding a colander as a makeshift satellite dish. Edith will then 'ide the plans in 'er undercrackers, and escape in a dustbin transported to the Resistance base by Monsieur Alphonse's 'earse. This sausage – which, did I mention, is filled with nitro-glycerine – is apparently a precautionary measure in case I am caught! Why is it always me left 'olding the banger? This whole place could blow up at any second! It is madness, but of course I never get a say in these matters."
Merci, René. Let's inspect our first batch of songs!

40. Chainsmokers ft Halsey – "Closer"

Very different to their Benassi-a-like debut "#Selfie" (remember that from the 2014 poll?). Putting aside the questionable logistics of stealing someone's mattress, this could well be peak bro-EDM.
39. Dawn Richard – "Renegades"

Impressive stuff from Dawn, as ever. Unfortunately I'm unable to take this song seriously as I have a mental image of Vic Reeves parping his way through it in the style of Dancing On The Sealink.
38. Nadia Rose – "Skwod"

My preferred 2016 Nadia track was her Routemaster rave-up Crank It (Woah!) but this is a banger too, with a great video to boot. Although I'm not sure that kit would satisfy Olympic sponsorship restrictions. Can you imagine a team full of Nadias? Amazing.
37. Craig David ft Big Narstie – "When The Bassline Drops"

Craig is BACK and firmly all over our boink! A massive nostalgia fest for anyone who was in my sixth form common room at the arse end of 1999.
=34. The 1975 – "Somebody Else"

I should warn you there's a good 3 minutes of dicking around in the video before the song starts, but when it gets going, it's on the atmospheric-Cars end of the 80s-retro spectrum. For reference, the other end is Jive Bunny.
=34. Miranda Lambert – "Pink Sunglasses"

Our acerbic country fave takes a rose-tinted view of things over a guitar so rough it almost turns into the intro of 'Son of My Father' by Chicory Tip. If only we could all bung on a pair of magic specs and transform the world into a nicer place.
=34. ANOHNI – "Drone Bomb Me"

You might recognise her voice, if not her name – this is some super intense R&B with a can't-look-away video (yes, that's Naomi Campbell).
33. Chance the Rapper ft Knox Fortune – "All Night"

You may remember Chance as one of the dudes from The Social Experiment in last year's poll. This song makes me feel quite old as the latest I stayed up last year was about 4am. (Actually given how knackered I am right now, 4am sounds alarmingly hardcore in retrospect.)
32. Lindstrøm – "Closing Shot"

Cheerful outdoor techno, the sort you need on a Monday morning to get you out of bed. Moominmamma is shaking out the picnic blanket and there's enough jam for everyone.
31. A Tribe Called Quest – "We The People…"

I don't think Q-Tip has quite enough microphones there? I can imagine hearing this blasting out of the medium-sized tent that no-one ever went in at Reading '99.
#30-#21 coming soon!
Comments
Add your comment
Top of page