13
Jan 15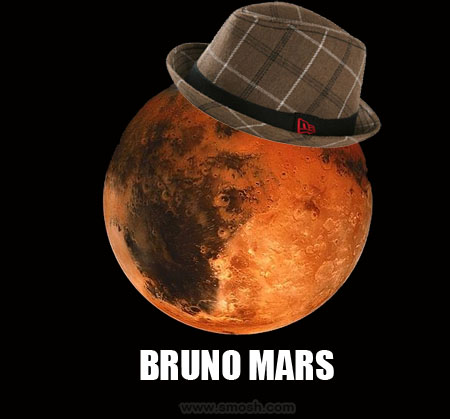 Back in July I had a quick listen and rate of the first half of 2014's number ones. Here's the sequel, picking up where that left off. As before, this is based on very few listens, and you can confidently expect my opinions and order to change should I ever get as far as this in Popular. Off we go.
1. MARK RONSON ft BRUNO MARS – "Uptown Funk": Enormously believable aesthetic cosplay, as heartwarming and enthusiastic as the best cosplay is, too. Never did I imagine I'd be so happy to hear Bruno Mars.
2. DAVID GUETTA ft SAM MARTIN – "Lovers On The Sun": Infectious splicing of the early 60s and 00s – cowboy exotica, Roy Orbison chorus, genteel strings, barely interlaced bloops and bangs.
3. SIGMA ft PALOMA FAITH – "Changing": I have a drum'n'bass free version of this by accident which is some heinous Jools Holland bullshit, the risks of using Paloma Faith vividly illustrated. The proper single mix is as corny but irresistible as their other single, maybe even more so.
4. JESSIE J, ARIANA GRANDE, NICKI MINAJ – "Bang Bang": The welcome return of the diva posse cut, doing what sounds like a Little Mix outtake. Truth be told I spend most of the song waiting impatiently for the Nicki verse, though.
5. LILLY WOOD AND THE PRICK – "Prayer In C (Robin Schulz Edit)": The deep house wave of 2014 ends not with a bang but with the heat death of the universe. A sullen croak from a beach at the end of the world, cocktails till late.
6. NICO & VINZ – "Am I Wrong": Probably the most 2014 of all 2014's number ones – drowsy sun-swept beatscape meets hollowed-out soul vox has been such a sound, and brass has been big too. Goes on a bit, mind.
7. CHERYL AND TINIE TEMPAH – "Crazy Stupid Love": There's more to this than I'd expect from a Cheryl single – the bits of decoration (sax, flute, Tinie) are in intriguing conversation – but she weighs it down.
8. TAKE THAT – "These Days": Unashamed, yet still rather desperate, Dad Disco. More awkward than awful.
9. WILL.I.AM ft CODY WISE – "It's My Birthday": Ever the businessman, Will.I.Am embraces the fashionable doctrine of the "minimum viable product". Everyone has birthdays, right? This is most likely the only RnBass number one we'll ever get, mind.
10. CALVIN HARRIS ft JOHN NEWMAN – "Blame": Waste of one of the better current singers. Harris works mechanically through his repertoire of builds like a cruise ship magician.
11. CHERYL – "I Don't Care": When your selling point in 2014 is your singer swearing something's gone wrong. The keyboards on this really could not sound any uglier, too.
12. MEGHAN TRAINOR – "All About That Bass": Inhabits and owns its aesthetic as much as "Uptown Funk" but way more airless and finger-wagging, even before you get to the main reason for loving your body being the admiration of dudes.
13. RIXTON – "Me And My Broken Heart": Why don't the good One Direction songs ever get to Number One? "Best Song Ever", that's a cracker. "Steal My Girl" was decent too. Meanwhile, this existed.
14. BEN HAENOW – "Something I Need": Cowell is now firmly, finally, in the don't-you-think-he-looks-tired phase of his reign. As such the X-Factor winners can no longer afford to be distinctively awful – this is just a rather incompetent version of Ryan Tedder anthem pop. But not actively infuriating, despite its origin. Unlike…
15. MAGIC! – "Rude": Tough luck my friend but the answer is no.
16. ED SHEERAN – "Thinking Out Loud": Simply Ed more like. Naive voices argued around the time of "Sing" that Sheeran had changed, but I maintained a zero tolerance policy and I'm glad I did.
17. GARETH MALONE'S ALL STAR CHOIR – "Wake Me Up": The song choice works, but the best bit of this is the spoken word bit at the end – "BUY THIS RECORD. BUY THIS RECORD – ECORD – ECORD". My God. Maybe Bake-Off could do the Children In Need job next year and give us a wacky singing flan instead.
18. BAND AID 30 – "Do They Know It's Christmas": Worse than I could have imagined. Bob Geldof as Captain Metropolis in Watchmen – "Don't you see? Somebody has to do it! Somebody has to save the world!"
Conclusions? A year with a distinctive sound broke down in late summer and partly went off a cliff – it doesn't help that there's a blank space (DO YOU SEE) where the biggest pop star in the world should be, and it also doesn't help that the other much-pushed big international hits were Magic! and Meghan. And the year-end in the UK charts is always a minefield thanks to charity records and Uncle Si. But, despite some of the horrors above, I do think 2014 was a low-key strong year for number ones – not as varied in its excitements as 2013, and with a worrisome drop-off, but not a disappointment either.
Comments
Add your comment
Top of page