16
Dec 14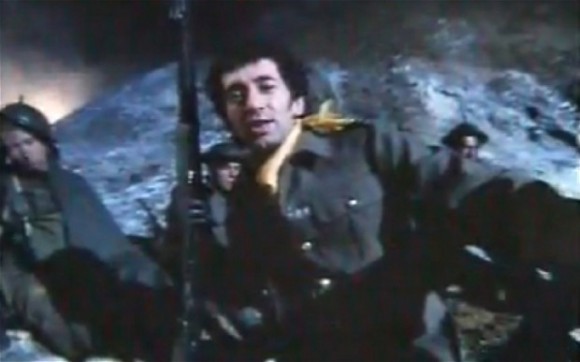 Christmas traditions are funny things – some of the most fixed turn out to have relatively recent roots, and new ones are manufactured all the time. Witness much hand-wringing this year about the import into the UK of Black Friday, a notoriously busy shopping day that makes sense after Thanksgiving in the USA (people have the day off) but far less over here. Still, it worked, and having successfully taken culturally will surely stick around.
Part of the British Christmas has been a canon of Christmas pop songs – Slade, Wizzard, Shakey, Jona Lewie, Greg Lake, Kirsty and the Pogues, Wham! Et al. The Christmas Canon has been a part of Christmas since I was a kid in the 80s, it feels as firmly set a tradition as you might find. But I suspect that's an illusion: it's changing, and the canon as we know it is on the way out.
On Facebook I mentioned that we'd know a generation had fallen from cultural influence when Jona Lewie got booted off the Christmas Canon. This was met with much sadness and shaking of heads from fans of "Stop The Cavalry", but the point wasn't that I dislike the song. I was 7 in 1980, disliking the song would be like disliking Christmas itself. It was put on the office playlist last week, though, and it struck me how odd it must seem to somebody who hadn't been around then – this lugubrious, kinda-sorta new-wavey thing that bobs along all about "nuclear fallout zones" and cavalry. It's like that one ugly bauble you always hang on the tree because you bought it as a kid: the time will come when you aren't decorating the tree any more, and the bauble might be quietly pushed to the back, then forgotten entirely.
Still, the Christmas Canon has been robust for years now, and it won't just be a generational handover that does for it. It's a combination of factors, and people getting older and not remembering how important Jona Lewie is for the meaning of Christmas is only part of it. What else is ringing the clanging chimes of doom for the soundtrack we knew and loved:
DIGITISATION: The British Christmas Canon goes hand in hand with the CD era. The need to fill up 2 or even 3 discs of Christmas music (including all the American oldies, of which more later) has meant an extended shelf life for a vast B- and C-List of Christmas songs – Chris Rea, The Pretenders, Cliff, et al. – which had to be dusted off every year to fill up space. But now we're moving into an era defined by playlists, not albums, which means you get to actually pick the Christmas songs you WANT to hear, not the ones EMI can afford to make up the numbers on Disc 2.
STAGNATION: As has been pointed out hundreds of times, only one song has managed to break into the Christmas canon in recent years, and that is Mariah Carey's "All I Want For Christmas Is You". It's equally important to realise, though, that Mariah's track is also ENORMOUSLY popular, charting on downloads every year and rivalled only by "Fairytale Of New York" (which gets the edgy vote each Christmas, but is also relatively recent). This is more evidence for the generational-handover theory: the audience wants the only recent smash hit Christmas song before it wants any of the 70s and 80s classics. But Mariah is also American, which brings us to…
GLOBALISATION: The USA had its Christmas song boom in the 40s and 50s – where lounge-y standards like "It's Beginning To Look A Lot Like Christmas", "Let It Snow! Let It Snow! Let It Snow!" and, of course, "White Christmas" originated. The Phil Spector Christmas Album feels like a culmination of that. The British Christmas boom was something of a reply to that, and at its zenith the popularity of the 70s and 80s hits meant all but the hardest-core of US standards were relatively neglected. But these days the American experience of Christmas is more culturally prominent – goodbye UK sitcom specials, hello repeats of Elf on Sky Movies – and just as with Black Friday (and Hallowe'en) the UK is falling into line. The golden age of American easy listening Christmas music is firmly back in style, and everyone from Bing to Brenda Lee is as likely to get an airing as Shakey or Slade. (I've even heard "Christmas Alphabet" get an airing once again.) And for people under 30, they have the distinct advantage of not being your parents' pop music.
So in the pub – of course it was in the pub – I predicted we'd see a survival of the hittest effect shake out – an "A-Canon" of genuine untouchables, and a B-List rendered much more flexible by the decline of CDs. What would be in this A-Canon? I judged – based largely on hunchwork and my experiences of the office playlist – that it would include Slade, maybe Wizzard, certainly Wham!, Kirsty and the Pogues, and Mariah. Everything else – McCartney, Elton, Shakin' Stevens, Greg Lake, and, yes, poor Jona Lewie – faced cold holidays ahead as they were gradually winnowed out in favour of more Americanised Christmas songs.
That's just my opinion, though – where's the evidence. Well, this is the first year that the Official Charts Company has released its figures for streaming Christmas songs. What people want to hear and are playing, not just what turns up on compilations. If there is a quiet revolution underway in the Christmas Canon, here's where you'd see it.
And the evidence is… interesting. Mariah at the top, with Wham and the Pogues rounding out the Top 3. I was right about them, but wrong about Shakey (still clearly A-List at #4). Band Aid is too hard to call – it'll be played more this year cos they have a version out. Below that top 5, though, we see a cluster of vintage American Christmas songs and Wizzard, with Slade (far lower than I expected), Elton, Chris Rea, Boney M and Greg Lake following behind, and then Michael Buble versions of standards filling out the rest. No Spector (maybe he's not on Spotify?), no Cliff, and – thank the baby Jesus – no "Wonderful Christmastime".
We'll need to wait to next year to firm up the trends here, but it looks to me like something really is happening to Britain's Christmas soundtrack – a resurgence of interest in older music, with a core of canon favourites solid at the top. And, as I suspected from the beginning, there might be no room at the inn for poor Jona Lewie.
Comments
1
2
»
All
1
2
»
All
Add your comment
Top of page