21
Sep 14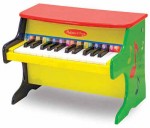 so yesterday i had my first piano lesson in 37 years (ie my teacher wasn't born when i had my last one): i went in VERY butterfly-stomachy — and came out combination buzzed&psyched, bcz it was AWESOME. Here's why:
i: i like the teacher very much (he also teaches my niece, aged 6).
ii: we concentrated on basically two phrases — less than two lines — of one piece: the one i thought of as the easy piece to start with, to show i could at least play something kinda semi-decently/competently (in fact of course i made loads of mistakes, my fingers all rubbery-sausagy despite practicing all week to be ready).
iii: the piece has always been one of my favourite bits of music, the Rondeau from Bach's Orchestral Suite 2 (as adapted arranged and edited by one e.markham lee): basically one of his grave, sad, stately baroque dances, with (in the arrangement especially) some nice crunchy Webernian minor seconds to savour.
iv: we got to discuss (and puzzle at and ultimately cross out) some of Lee's fingering suggestions, which have always tripped me up, because they don't seem to make much sense; teacher is nicely practical about what matters on the page and what doesn't, the motifs that should be heard and the in-fill that needn't be. Turns out that — despite its apparent simplicity — it's a deceptively subtle and tricky piece in its way (Bach, who knew?), so a little smug yay for subconscious me there, yay.
v: a fresh ear to point out my by-now ten-million self-taught terrible habits, which i have reinforced every time i've sat down to play over the last seven years… now I'm listening to everything I do through someone else's lively and informed intelligence.
vi: someone just to talk to about the mechanics of music, the phrasing, all the little atomic-level elements you need to get hopping for it to work — invaluable for me not just for playing better (which is of consequence really only to me) but LISTENING better, which is of consequence to my writing.
vii: … plus a little work from my beloved/crazed finger-exercise book, which my last teacher gave me shortly before my last lesson, well aware that (at that time) i was super-sceptical about (as i saw it, impatient dickwad teen that i was) about such academic scale-fascist classical technique-drudges as Carl Czerny. Dohnányi's approach to technique is modernist and quasi-logical, the waste sliced away in favour of over-tidy shortcuts and turnarounds locked into the clichés of 19th century harmony — and actually (as a consequence) twice as dotty, when you step back and think about it; you get a ton of basically needless finger-strengthening work in the far reaches of the massed flats and sharps, for completeness' sake, when much of the work you actually need to do is just as well served in C major. SUCKS TO BORING C MAJOR sez a still-spiky bit of my former punk self — but that adolescent idiot can pipe down for a spell.

Comments
Add your comment
Top of page