11
Jun 14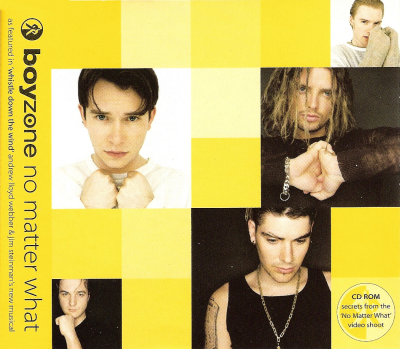 "No Matter What" has an elevated position in Boyzone's catalogue. It's their big crossover hit, the one by songwriters of real mass-appeal pedigree – Andrew Lloyd Webber and Jim Steinman – and the only one to have done well in the USA. You might see it as Boyzone asking to be taken seriously, except it fits so well with the stately, windy ballads they were already making: this isn't a stylistic change so much as a levelling up in songwriting competence. There's an efficiency to the hook and a solidity to the structure here which you'd expect from two men made swinishly wealthy by their ability to pull out a show-stopping ballad.
Those abilities had been expressed in quite different ways. A glance down a list of Lloyd Webber hits – "Don't Cry For Me Argentina", "Memory", "I Don't Know How To Love Him" – suggests one of his fortes is the philosophical ballad, the song that ties a bow on a lead character's internal drama and sells it to the audience. But of course the details of this are very much down to his librettist, which is why the Jim Steinman team-up seemed so odd and (on paper) intriguing. Steinman got famous for songs where intimacy gets blown up to IMAX size, where interior drama isn't so much packaged up as exploded in the audience's faces, and then when the embers settle all the pyromania hides human feelings after all. If Lloyd Webber needs a lyricist for maximum effect, Steinman needs a voice that doesn't just ride the bluster but puts its foot on the accelerator to make the song even bigger.
By these expectations, "No Matter What" is a very damp squib. Steinman doesn't get his voice, he gets the maudlin strainings of Ronan et al. But Lloyd Webber doesn't get his lyricist either – he gets Steinman ringing the changes on a three-word phrase to abstracting and tedious effect. Which means whatever the basic strength of the melody, I end up feeling "No Matter What" stretches itself desperately thin.
But an analysis of what might have been only explains why "No Matter What" is a disappointment – not why I particularly dislike it. And I do: in fact I detest it. It's the least bearable thing by Boyzone I've covered so far, something which goes beyond an off-day by a pair of well-known writers. Trying to pin down the peculiarly bad taste it leaves, I keep coming back to "No Matter What"'s theme.
In Whistle Down The Wind, this is sung by a bunch of kids who have met a hairy guy in a shed and think he's Jesus. The song is about their faith in the man. But by extension – and freed from this context to roam free on radio – it's a song about any kind of personal faith in the teeth of adversity. "No matter what they teach you," runs the key line, "What you believe is true". There's a righteous strength in that, but paranoia too – as a sentiment, it could be a source of comfort and strength to anyone on the losing side of a social argument, from apostates to anti-vaxxers. There is one moment – the most Steinmanesque bit of the song – where Boyzone solemnly assert that if prayers were answered, the words God would utter are… the chorus of "No Matter What". It's comical, but it makes complete sense: in a self-centred worldview, that kind of ultimate underwriting of belief is all faith is. This is my truth: don't tell me yours.
So the more universal a pop song gets, the woollier it gets too – big surprise. If "No Matter What" walks a line between strength and complacency, it's down to the performers and what they bring to it to push it one way or the other. And Boyzone certainly do. As usual, the group are here to soothe: they tie "No Matter What" back to romance in the second half, when it becomes more explicitly a song for persecuted lovers, but there's no struggle in the singing, just creamy, self-satisfied reassurance . There's been plenty of care taken over the arrangement – the final seconds, with the members of the band finishing each other's lines, standing together, are certainly a thoughtful touch. But confronted with a notionally defiant Boyzone, I'm left with the same disquiet I had facing one who wanted to take a stand and change the world, on "A Different Beat": I don't believe you.
This might seem plainly unfair. "No Matter What"'s dogged devotion – its affirmation that your feelings matter – isn't taking it places "Viva Forever" doesn't visit too. But there you go: it's hard for me to give this mob a fair shake. It turns out that the incompetence, shoddiness, overreach and dreariness that characterised Boyzone's earlier hits weren't my problem with them. This is them scrubbed up and with their strongest material, and still almost every decision they make – including and especially those nerve-scraping "Chika-ahh-ahh-ahh" breaths at the start – makes me cross. Some bands get worse when they're at their best.
1
Comments
«
1
2
All
«
1
2
All
Add your comment
Top of page