18
Apr 14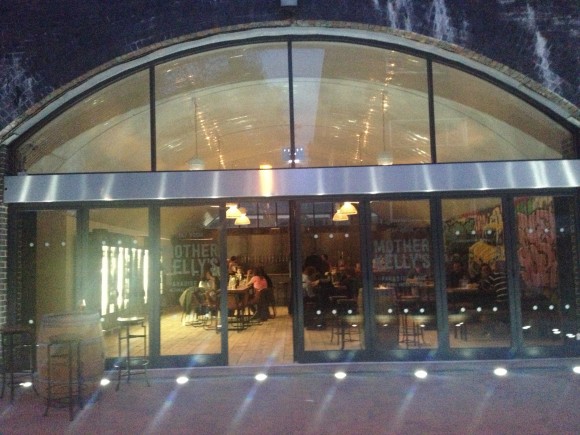 We went to Mother Kelly's in Bethnal Green for the first time last night (it's only been open a couple of weeks) and it's LOVELY! Twenty-odd taps of well-kept keg (including seven last night from De Molen), six fridges of well selected bottles and red, white and fizzy wine on tap too!
The space (why yes, it *is* in a railway arch) is bright and airy, the tables well spread out (I suspect this may change as it becomes more popular, there's certainly room for more) and on a spring evening it feels just right.
I had a natter to several beery types who all seemed to be enjoying themselves too. Nice little touches like bottles of water and glasses on the table (handy when you're on the 15% barley wines!) and everything served in third, half and two thirds (didn't see a pint glass, but suspect their standard lager comes by the pint) along with very well done toilets means this is definitely a place I'll be back to.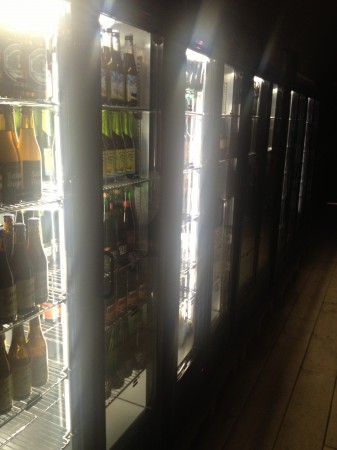 My somewhat drunken verdict last night, which I stand by with a caveat, was "it's like the Euston Tap, but not shit", by which I mean I love the Tap, but it's compromised by a number of things far beyond their control, ie the shape and size of the building and, to an extent, its location and clientele. They've got a lot better in working with these issues recently but they're mainly inescapable.
What Mother Kelly's has, in contrast, is a great space, which they're using really well. When the other arches next door are filled with exciting restaurants I suspect there'll be a great buzz around the place.
In other Bethnal Green news, there is also an excellent cocktail bar just across the garage forecourt from Mother Kelly's. I heartily recommend a seat at the bar of Satan's Whiskers to watch the bartrons knock up an excellent selection of drinks from their frequently changing list.
Full Disclosure: I've known Steve who runs MKs since he was involved in Mason & Taylor and he did provide us with a selection of cheeses on the house (on the arch?) last night.
Comments
Add your comment
Top of page