9
Dec 10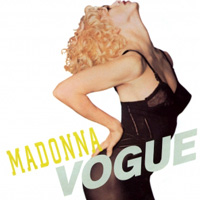 After a crucifixion, an ascension: as discussed on the Lollards Of Pop, "Vogue" is Madonna's attempt to join a pantheon of pop culture icons – "Grace Kelly, Harlow Jean…." and so on. No, not her attempt: her assertion that she is already part of this company by right. She's the first modern pop star to join it, to rise above the colourised grit and mess of the rock era and act like she belongs in black-and-white.
To do this is an act of serious willpower on her part, since her previous outing was all about personal debris. Like A Prayer positioned herself as serious and soul-bearing and was rapturously received. "Vogue" closes that off – from that initial wash of synth this is nothing but pristine: high-hats gliding and bustling like wine-waiters in the background, clipped stabs of string and brass, Madonna herself alternately tender and imperious, offering divine advice. In one sense it's a return to the dancefloor, but Madonna's early club music was hungrier than this. This is the work of a star who knows she's a star in perpetuity – from now on her songs, even the most personal, have something of the official statement about them: her interest in new producers and styles has an element of patronage.
This is the thrust of the arguments against Madonna we talked about briefly on the radio – that her interest in the Harlem vogueing subculture and its rich tradition is appropriation and neutering. It seems to me, though – as an obvious outsider, I grant you – that vogueing is in a wider tradition of aspiration as mockery. In this case it's multiracial queers pastiching the rituals of white high society, to a degree that the pastiche becomes its own, more vibrant and intense reality. This isn't a risk-free process: Elijah Wald's How The Beatles Destroyed Rock'n'Roll traces how the cakewalk, originated by plantation slaves as a parody of slaveowners' social events, took on its own life after the Civil War and morphed into a minstrel show standby.
So a song about aspiration with these roots can't help but contain a second edge, and it's worth asking not just what "Vogue" does to voguing, but what Madonna's own casual assumption of her icon status does to the pantheon she's claiming membership in. Ends it, perhaps: at the end of the video the stiffness, skill and remove of the vogueing dance breaks down and the crowd begin to move more freely. "Vogue", with its tension between the pose and the release, is a song which fits a particular moment in dance music history – as the wave of democratisation house music unleashed started to break against entrenched club mores.
OK, "be your own icon" isn't necessarily the most profound of messages, but luckily what makes "Vogue" a great record is primarily its music – that house piano cutting across the synths and dominating the record's endgame, and of course Madonna's brilliant rap, emphases coming down regular like heels on marble so the triple-stresses ("we love you", "dance on air", "gave good face") jump out even more. That section is one of the great pop moments of the 90s, where Madonna proves she fits just fine into whatever company she's choosing to keep, and encourages you to believe the same.
9
Comments
«
1
2
3
All
«
1
2
3
All
Add your comment
Top of page