29
Dec 10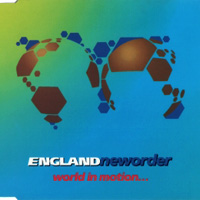 "World In Motion" is the ultimate 1990 record, but oddly the specific World Cup it reminds me of is 2002: living in London, broadly optimistic about England's prospects, watching football in the morning then going out in the afternoon sunshine and having a beer, maybe dancing later. That timelag made it a topsy-turvy experience, gave the sensation of the usual order of a World Cup summer being turned enjoyably upside down. The same kind of pleasant dislocation, in fact, that struck me when I heard, 12 years earlier, that New Order were going to make the England team record, and it was going to be called "E For England".
Well, it wasn't, but given the chain of marvelous unlikeliness this did set off – New Order doing a football song, New Order at number one, John Barnes rapping on a chart-topping hit – I can't begrudge one missing bit of cheekiness. The mooted title also points at what makes the track work – this really, genuinely "ain't a football song", the sport takes its place in a more universal celebration of summer, freedom, optimism, and most of all dance music.
It's a rightful place, too. I'd learned the fat kid's defensive disdain for football, but even I'd become aware of a counter-melody to the constant establishment song of thuggery, tragedy and mistrust. The idea of E'd-up hooligans hugging on the terraces is one of the great fond legends of the late 80s, potent whatever its literal truth. But presenting football and dance music as incongruous, ironic partners obscured deeper connections. The lifestyle of the casual, grafting to get money for a European jaunt and returning with clothes and style ideas, has pretty obvious parallels with acid house culture in the UK (and involved lots of the same people). It's not a huge jump from imported trainers to imported 12″s. Italy being a prime source of both, of course. So when the Italo house piano – a feature of almost every good #1 this year – drops in mid-song for the "We. Want. Goals." sample – this record stops seeming unlikely and instead becomes something gloriously, inevitably, right.
After that pivot point you get the England half of the record. Before, you get a New Order single – and a very good one. Not perhaps their greatest – not "Bizarre Love Triangle" or "Regret" or "Run". But their virtues – Barney's unaffected earnestness, the efficient snap of the drum programming, and especially the beautiful overlapping runs of bass, guitar and keyboard – are all here. I sometimes get the feeling New Order fans – Americans in particular – see "World In Motion" as a novelty or an aberration, when really it's a validation: this is a band at their peak, following their best album. They've gone through grim times, found a kind of salvation on the dancefloor and played their part in taking a whole culture with them. This single is as necessary to their wider story as "Love Will Tear Us Apart". And to be honest I listen to it a great deal more often.
As for the football section – well, there are a lot of Englishmen who know few raps from memory but could recite John Barnes' at a moment's prompting. It has heart and gusto and – a genuine rarity this in a World Cup song – it actually talks tactics. And yes, you can't have a football song without some degree of chanting, but "World In Motion" earns it – the "Arrivederci!" bit appears as a natural, joyful, end to the song instead of its main motive force.
In the end, though, a culture gets the football songs it deserves. And it's easy to forget how good England sometimes felt in 1990. The optimism in "World In Motion", the sense of possibility, was very real and hard to put into words now without sounding pie-eyed or rote – pop was revitalised, the world was changing, youth culture was transformed, Thatcher was weakening (and would finally fall that winter). Football had played a hidden role in setting up some of these cultural shifts and here it was, accepting its invitation to the party.
For Mexico 86 I'd hardly paid attention, for France 82 I'd only cared about the Panini stickers. Italia 90 was the first World Cup I followed: as it turned out I was hardly alone, and the tournament's gone down as one beginning for the great gentrifying and commercialising changes in football in the 20 years since. At the time of "World In Motion" this future went mostly unpredicted – instead there was a Utopian streak in pop thought, a sense of the coming together of genres, classes, eras that this record with its mix of '66 and '88 caught exactly. Maybe it was just that I was 17. Looking back it seems a little more bittersweet, a high tide of confidence – the Utopia never arrived, and this is the last time we'll meet 1966 on a hit record (football song or no) as an equal, not as a chastising ghost. But for now Summer is beginning, the team is ready, and the future is an open goal.
8
Comments
Add your comment
Top of page