29
Oct 10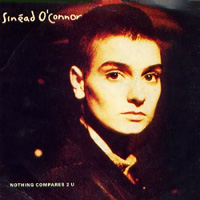 Sinead O'Connor is one of the finest song interpreters not just because she thinks hard about the material and the feelings locked in it, but because she's so good at placing songs into a situation. A great example of this is her version of "Chiquitita", warm and homely where ABBA's is melodramatic, replacing its theatrical flourishes with a cosy tick-tock rhythm like a parlour clock. In the video she makes you, the viewer-as-Chiquitita, a cup of tea and settles down for a chat, and it's perfect: that's exactly what her version feels like.
This ability to find an angle gives her cover versions life and variety: she's happy to switch up her singing style as the track demands, she's never reliant on one-size-fits-all passion. She can belt with the best of them – think of her "You're killing me!" ranting on "Success Has Made A Failure Of Our Home". But she's also happy to keep her distance if that's what the song needs. This is why the famous video for "Nothing Compares For You" – tight close-up on O'Connor's face, a tear sliding down her cheek, her spitting some words and flinching from others – can be misleading. It makes you think the record is brilliant because of its raw, unsimulated emotion: but really it's more subtle than that, and the artifice of the video's framing is as much a tell as those two teardrops.
Her "Nothing Compares 2 U" is a very moving track – it captures the stasis, anger and devastation of a bad break-up with awful accuracy – but it seems to me Sinead comes to that emotion through very calculated vocal choices, particularly the shifts between a gentle vocal tone and one more edged and occasionally so harsh it almost sounds treated. Take the chorus, for instance – it builds up as a big soft rock sweep: "But nothing compares…" – and then starts to zig-zag, O'Connor picking out individual syllables – "no-THING! com-pares" – before blurring the last two into a single stabbing cry – "TOYEW".
How does this way of singing work with the grain of the song? "Nothing Compares 2 U" is – at least partly – about control and its limits. The singer has freedom and autonomy, she knows exactly how long she's hurt for and is withering about others' attempts to advise or alleviate it. By the end of the song she's acting like it's her choice whether he comes back or not – and this coda is the record's prettiest and most desperate moment. So the ultra-precise vocals on "Nothing Compares" dramatise this. And they allow for some magical moments – the hopelessness of "I can see whoever I choose", and the showy melisma on "whatever I want" and "restaurant" underlining their pointlessness in a life where all activity has become decorative and empty. The defiant, then trailing "every boy I see". The chilling first line. And – of course – "GUESS what he told me!"
I haven't even mentioned the music, whose stately, sympathetic pulse gives O'Connor the canvas she needs to be so devastating. Compare it to the Prince-produced original by The Family and you can easily see the work this rich, understated backing is doing – the melody is there on the Family's version but the production strands it by turning the song's sorrow into a fog. Everything about Sinead O'Connor's track is clear, by contrast. But there's still something irreducibly private about it, this portrait of a woman whose grief is all she has to hold onto.
10
Comments
1
2
3
…
6
»
All
1
2
3
…
6
»
All
Add your comment
Top of page