21
Jun 10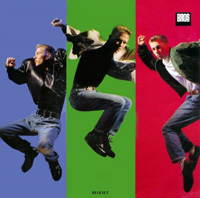 There's a performance-based definition of one-hit wonders, but there should be an aesthetic definition too. There are poor groups who make one important single, who against all expectations Get It Right on a particular occasion and leave the studio with something worthwhile – a record that owns its moment even, that you could put in a time capsule and 100 years from now would tell people something about what it meant to be young and alive in (say) 1988. The fascinatingly horrible Bros are, I would argue, one of those groups. Unfortunately "I Owe You Nothing" isn't their one great record.
That would be "When Will I Be Famous?", the most honest boy band hit of them all, four minutes of acquisitional hunger and ruthless raw need. It's catchy, it's funny, it sums up the gel-soaked stonewashed grotesqueness of Bros and casts a light on their tacky times. It's a venomous pop star character study and all the more compelling because you're pretty sure it's actually true. And, reluctantly, I'm not meant to be writing about it. I have to write about "I Owe You Nothing" instead, the pawky runt of the early Bros litter. "Drop The Boy", their other initial smash, isn't very good either, but it's unintentionally funny – these pleas for maturity juxtaposed with their signature "ROO-AWRR" sound, the noise of a rutting gerbil.
There's plenty of hot rodent sex on "I Owe You Nothing" too, but it starts brightly: dive-bombing synths and a hustling bassline. It's only later that the song starts loses its way, running out of musical ideas and papering that over with a momentum-killing instrumental break and increasingly purposeless grunts and yaps from Matt Goss. The overall feel is busy and tinny, very much in line with Stock Aitken Waterman orthodoxy, but SAW's cheerfulness (and their feel for a verse melody) is missing: instead "I Owe You Nothing" jabs and nips at its audience and its subject. "I watch you SUFFER with no feelings – no feelings at all": I don't think there's been as spiteful a number one as this since "Out Of Time". But even though Bros' spite is interesting, the performance and arrangement doesn't give it much force.
Spite seems key to the Bros project, though, and to their strange season of hugeness – only really scuppered when they were allowed to write their own material. Manager Tom Watkins obviously knew that the oddness of the Bros package – cold-eyed, chiselled twins on the make – was the stuff of hits given the right angle. Tender wouldn't cut it – Matt Goss was too shrill a singer – so the way to go was to play up the Goss brothers' icky aloofness. For anyone outside the target audience, they were created to be hated, marrying the glossy selfishness of the handsome with the insular selfishness of the twinned to make records powered deliberately by a mix of malice and entitlement. In fact, even for people inside the target audience they seem an anomaly and a risk, at least compared to the sure-thing boybands who would boss the 1990s. Bros the phenomenon are more interesting than a lot of the people we meet on this blog – but that doesn't make this record much better.
4
Comments
«
1
2
3
All
«
1
2
3
All
Add your comment
Top of page