28
May 10
As anticipation begins to build for the football world cup, the pop version approaches its climax. Thirty-two teams arrived in South Africa: only four remain. We'll be bringing you the semi-finals next week – let's have a look at the teams who are now just two wins from glory and their greatest moments in the competition.
GERMANY's progress to the semi-finals has mostly been dogged rather than dramatic. Manager Andrew Hickey has tried his best to lower expectations, complaining about the resources available to him and publically doubting the ability of many modern German pop artists to go the distance. In the group stage this preference for veteran players was obvious – Peter Thomas remains the oldest player ever to appear in a Pop World Cup. A switch to a modern line-up in the form of Stereo Total lead to a heavy defeat. But in the knockout stage Germany have raised their game – Wir Sind Helden saw off the USA in the second round with some ease, and the gripping quarter-final against a highly-fancied South Korea saw Germany victors in extra-time by one single vote. Did this performance exhaust the Germans, or can they hold together long enough for a place in the final? You'd be crazy to write them off. Key Moment: Wir Sind Helden score from a brass-section set piece to put them ahead against the USA.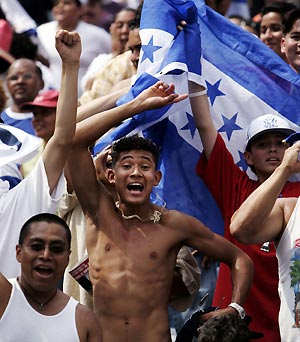 HONDURAS are Germany's opponents in the first semi-final, and are a Pop World Cup fairytale. Avuncular boss Carsmile Steve made it clear in his pre-tournament press conferences: the plucky Hondurans were here to enjoy the experience, and would be lucky to get past the group stage. But an early win against a woeful Chilean side gave the squad some self-belief. The manager capitalised by issuing late call ups to a raft of players from the reggaeton leagues – though the new formation took a while to gel it began to pay dividends with a vital win against Switzerland to get out of Group H, followed by a shock victory against a technically excellent Portugese side. Carsmile took the risky decision to drop the reggaeton for the quarter-final against Holland, fielding techno-punks Acidmunky in one of the tournament's most physical games. It paid off. Honduras now stand on the brink of unimaginable success, and will be hoping to follow the similarly unfancied Czech Republic to Pop World Cup glory. For their manager though, there's a selection dilemma – return to reggaeton or take a chance on a more varied style? Key Moment: Angry Portugese players remonstrate with the ref after a squeaky-noise long throw courtesy of Sherry Y Sheyla gives Honduras an equaliser.
This Pop World Cup has been described as "Africa's year", with African teams scoring some dazzling victories and playing some of the competition's most joyful pop. So it's fitting that the second semi-final is an all African affair. NIGERIA have been one of the Pop World Cup's most consistent performers, with gaffer Matt DC equally at home in the commentary box as the dugout: he's been outspoken in his opinion of other sides, though scrupulously fair-minded. His own team play unashamedly positive, attacking pop with a variety of modern formations – generally using younger players. This direct approach has won his side a lot of friends, and helped Nigeria through what might well be the toughest run-in of any of the semi-finalists: close-fought encounters with very strong Argentinian, Korean and French sides among them. In the quarter-finals an exuberant outfit scored a convincing win against neighbours Ghana. Key Moment: Needing only a point to qualify, Nigeria go all out to beat the Korean Republic with "Take You Away".
Finally, CAMEROON have answered their doubters in the most convincing way possible to come this far. After two draws – in which the side hardly mustered a shot on goal – a narrow win against Holland sent them through to the knockout stages. Having reached them Cameroon raised their game, with a pair of superb afro-pop and afro-funk displays to see off New Zealand and Spain. Manager Weston Debevec has become known for his cryptic but thoroughly entertaining pre-match press conferences, but go beyond those and you'll see a team which have quietly improved throughout the Pop World Cup and are probably the most technically impressive side still in the competition. Key Moment: Cameroon secure qualification for the group stages by, essentially, frightening their Dutch opponents into submission.
By the end of next week we will have our first African finalist in the Pop World Cup: this much is certain. Everything else is up in the air – please join us on Freaky Trigger as pop's showpiece event enters its final phase.
Comments
Add your comment
Top of page