8
Mar 10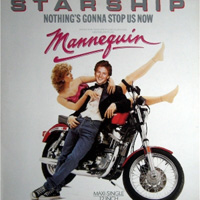 Listening to this song you realise that at some point the idea that a rock record should sound like a bunch of people in the same place playing the same music at the same time was completely abandoned by record producers. Not in the name of experimentation, or expanding a record's sound, but I guess just because that kind of verisimilitude didn't seem relevant any more. In its way this even seems a more radical shift than genres like dub reggae or techno which were clearly studio constructs from the off.
This is a long way of saying that there's something quite off about a song like "Nothing's Gonna Stop Us Now": built for a movie, it has the same oddly flat, perspective-warping quality as a studio set, like it only really exists in the context of the action, when it's soundtracking something. That eerie dead space is created pretty much entirely by the echo on the percussion: I guess it could also be filled by crowds of people singing along, which is why arena rockers took to this kind of song.
Listened to alone there's a discrepancy between the size and effort of the sound (colossal) and the emotional take-out from it (pea-sized) that tips me into laughter when Starship try and go up a gear leading into the guitar solo. Maybe if I'd put more hours in with Grace Slick's earlier work I'd find it in me to despise Starship but for all its vacuous, leaden bigitude, deep in its tiny heart this is affable enough to be harmless.
4
Comments
«
1
2
3
4
All
«
1
2
3
4
All
Add your comment
Top of page