11
Feb 10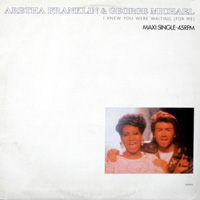 "I Knew…" is step three – after the solo ballads and ditching the boy racer – of George Michael's repositioning as an artist with credibility. In the pop landscape of 1987, getting Aretha Franklin onto your single sent signals – I mean it; I have a certain clout; I want to be big in the USA; I am in this for the long haul; I know my stuff. Unfortunately for him, "credible" in 1987 has aged worse than "laughable" in 1984 did: "I Knew You Were Waiting For Me" is long on hot air and short on delight.
This isn't really George or Aretha's fault, as they're struggling with the fact that Simon Climie appears to have written the track using a set of gospel magnetic fridge poetry. Low valleys, high mountains, deep rivers, faith, destiny, spirit: all that's missing is, well, God. Of course part of what made Franklin legendary is her ability to balance the transporting passion of gospel with the restrained and coded world of the secular love song – but even so there's something very calculating and even patronising about this job. Let's write the sort of song that Aretha Franklin sings, she'll like that! Combine it with the trowelled-on guitar and gated drums and you get a record which works to deny its vocalists space.
She cuts through to a degree, he doesn't do so well, but the suggestion in the video that this is a virtual duet is all too plausible – no heat, not much interplay, the only unexpected emotional note either strikes is Aretha's tender, maternal "I know you did" as George leads into the chorus. Lovely to see her on Popular of course, but the circumstances aren't ideal.
4
Comments
«
1
2
3
All
«
1
2
3
All
Add your comment
Top of page