27
Sep 09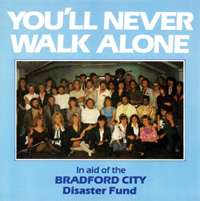 Band Aid and USA For Africa had established one form of the charity single: a stellar alignment. The biggest names available, coming together on a solemn and unique occasion, performing a specially-composed song that spoke to the magnitude of the situation. This was all fine but it couldn't scale down. "You'll Never Walk Alone" set out a more typical working model – a shock troop of names, a just cause, a song everyone knew.
And so it is that John Otway, Motorhead, Kenny Lynch, Rick Wakeman, Peter Cook and many more* find themselves on a #1 single together. For all that most of the musicians making up The Crowd were pretty unfashionable, the very name of the group underlines that this wasn't about individual profile raising. It was a shocked and rapid response to an immediate tragedy – the Bradford City stadium fire – and unlike the blockbuster charity hits we've discussed it's hard to find too many cynical motivations for this one, and why would you want to look?
Well, at a mean pinch you could raise an eyebrow at organiser Gerry Marsden's song choice: it's not just Liverpool fans who sing "You'll Never Walk Alone" but the track has no particular associations (that I'm aware of) with Bradford City. As a song of solidarity, though, "YNWA" clearly works, and its proven value lies in the kind of mass singing a record like this requires. The earliest songs sung on the terraces were – so the legend goes – hymns, and "You'll Never Walk Alone" fits that bill too: sung by thousands it's an article of faith, and at the same time the proof of that faith. And it's only fair to mention that like any ritual – particularly in the era of the football club as global brand – there's always a danger of it being packaged and exploited as kitsch.
If anything then, there's too much soloing on this recording, and too small a crowd: it's not horrible to listen to but it doesn't stir the emotions either. It sounds cheap and hurried, and in charity terms those are positives, even if the result ends up like a group of football fans gathered round a cruise ship Casio. Like most charity records from this point it did its job then discreetly shuffled to the back of the collection, becoming a tiny part of a disaster's wider story, and leaving no mark on pop's.
*It's worth pointing out that my only source for the line-up is Wikipedia, and of course anyone can add anybody into that: caveat lector.
3
Comments
«
1
2
3
4
All
«
1
2
3
4
All
Add your comment
Top of page