30
Sep 09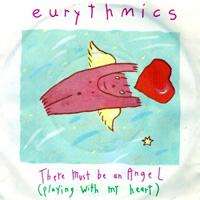 Pop's flight to quality continues apace – Stevie Wonder's harmonica solo on this song is his fourth appearance on a UK No.1 within a year. The mid-80s were a time for safe musical investments, and vintage black pop became the safest of all – who could go wrong with soul? On the Eurythmics' parent album Aretha Franklin herself took a turn. She and Wonder lent an air of borrowed distinction to the band's more classicist proceedings – a risky effect, casting pop stars as social climbers on the ladder of taste.
But if the chill and poise of Eurythmics' synth-pop work are nowhere to be found on "There Must Be An Angel", it has an oddness all its own. The record is carried by Annie Lennox' deliberately showy melisma, its startling rococo trills indeed suggesting the presence of the divine… albeit in one of its kitschier aspects.
If you accept – or even, dare I admit, enjoy Lennox' performance then there's a lot to like about the single: it's one of their most direct tunes, and the way the Wonder solo bounces in incongruously after the arch, wordy middle eight adds to the feeling of delightful overripeness. There's genuine bliss (sorry, blee-eee-ee-e-e-e-iss) in amongst all the decoration, though Dave Stewart has a bad day: "Angel"'s main failing is how thin and twangy it sounds, those ugly plucked kzoing! noises a particular threat to an otherwise pleasingly flightly record.
7
Comments
«
1
2
3
All
«
1
2
3
All
Add your comment
Top of page