4
Sep 09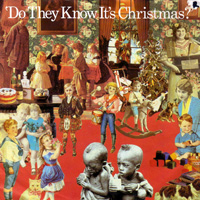 "Do They Know It's Christmas" is significant in one way, and insignificant in another. First, it raised a lot of awareness and money and established the pop single as an excellent mechanism for doing those things. This was significant. Gargantuan "supergroups" like this fell out of favour but charity records will be a constant from here on.
This isn't an unalloyed good, and not just because most of the records are atrocious: private charity can generally do very little about the root and structural causes of bad situations, and Band Aid's chosen name is a dark pun. Band Aid – and subsequently Live Aid – provided a readymade narrative of success: a way to give the famine story a happy ending. The Ethiopian famine set the tone for media coverage of Africa as a failed continent: a basket case constantly requiring the help of Western governments and citizens.
But it would be absurd to have expected Geldof and Ure to be able to change this, and wrong to have preferred that they did nothing. They did their best, it was a very good best, and there are individuals alive now who would not be if it wasn't for this single, which isn't something I can say with confidence of "Mouldy Old Dough". However, feeding the world is well outside what I'd generally expect pop to do – so this whole introductory hand-wring is a way of saying that I'll be listening to charity records as records, not as charities.
And as a record, "Do They Know It's Christmas?" has stuck it out better than I thought it would, mostly because it's become a record about Christmas, not a record about tragedy. As a record about tragedy it's notoriously heavy handed, but heavy-handedness is exactly what Christmas hits thrive on. It starts with a lift from Joy Division's "Atmosphere" and then gets jauntier and jauntier until by the end it's positively festive. Because I'm lucky enough to enjoy Christmas, and because this record came out when I was small and enjoyed it even more, the main feeling I get from "Do They Know It's Christmas" is one of immense well-being and the sense that all is right in the world.
The cognitive dissonance works because it's what the song's very clearly about: "Here's to you – raise a glass to everyone! Here's to them – UNDERNEATH THE BURNING SUN!" (a line that always makes me imagine the song as a comic strip). So the more "Christmas" turns into a drunken singalong, the more we giggle at the scratched-up, awkward greetings on the 12″, the more we bellow out That Line, the guiltier we then feel, and the more we give. Well, that's the theory. Since the recording session turned into a massive party when Francis Rossi got his bag of coke out, it's fair to say that the song's immense capability for inappropriate bonhomie has been coded in from the start.
The main contemporary criticism of Band Aid – voiced by Chumbawamba, but also by every playground cynic – is that the stars involved were doing it for the sake of their careers. This is surely completely true, but that's how celebrity charity operates. It's also worth pointing out that from this perspective the Band Aid single didn't actually work: it's not just Marilyn whose career headed dumperwards. This is where "Do They Know It's Christmas" is insignificant: it felt and looked like the sealing of pop's new establishment, when in fact it was their peak. The bands split, faded, took ill-advised sabbaticals, leaving U2 and George Michael the great survivors. Within only a couple of years the British pop landscape would look very different.
6
Comments
«
1
2
3
All
«
1
2
3
All
Add your comment
Top of page