6
Jul 09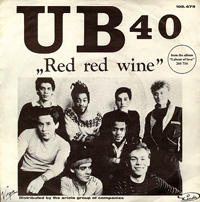 UB40, I was aware, made reggae. Therefore reggae sounded like what UB40 made. I can't have been the only one who made this logical mis-step, and I expect I wasn't the only one who spent a decade-plus assuming they disliked reggae because of it.
For many people, of course, UB40 will have served as the gateway into reggae: that was the aim of Labour Of Love, after all, one of the best-intentioned smash hit albums of its era. Good intentions don't always make for good music: so deadening is "Red Red Wine" in its UB40 form that I've never had a twitch of motivation even to go back and see what they polished up.
UB40's basic problem here is Ali Campbell's dishrag lead vocal: a pinched whinge of bottomless dissatisfaction that leeches all hope from its already workmanline surroundings. The weird thing is that it's not as if UB40 didn't on some level realise what Campbell sounded like, as on their early work they trimmed subject and approach accordingly. "One In Ten" and "The Earth Dies Screaming" are as much undead as dread; Babylon effectively recast as an endless grey purgatory. "Red Red Wine", layering the same miserable tones over its stolid jauntiness, creates something fresh and unpleasant.
And that's before you even start to consider the contribution of Astro, whose nervous, monotone toasting is less the gleeful interaction of voice and rhythm and more a junior executive being forced to rap as a forfeit on a team-building exercise. When he sings "Red Red Wine inna 80s style / Red Red Wine inna modern beat style" the lack of excitement or conviction is so total you almost want to give him a cuddle.
3
Comments
«
1
2
3
All
«
1
2
3
All
Add your comment
Top of page