18
Jul 09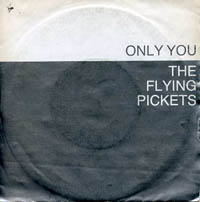 Aged ten I didn't have much time for the wounded, crafted dignity of the Flying Pickets. I probably wouldn't have had time for Yazoo either, if I'd even remembered them. "Only You" was distilled adulthood, and not the kind of adulthood you aspired to, the kind you couldn't put a name to.
I can put a name to it now though: defeat. Moyet sings "Only You" with flint in her voice and a clarity born of narrowed options: another opportunity for happiness gone, a forced shrug. So what do Brian Hibbard and his gang bring to the song? Sentimentality, a chance at comfort. "Only You" the way the Pickets sing it is a pretty, lulling song.
The way that works isn't difficult to fathom. What once was mechanical is now human; a steel shoulder to cry on has become a consolatory close-harmony coo. No wonder the (excellent) video takes place in a pub, a place where whiskery men can compare bruises. A big part of it is the shift in attention from the lyrics to what used to be the synth line, now part of the lead vocal. That "ba da da um" is "Only You"'s intro, and coda, and climactic centre, driving out the specifics of the song's pain and coddling the memory of its ache.
5
Comments
«
1
2
All
«
1
2
All
Add your comment
Top of page