24
Jul 09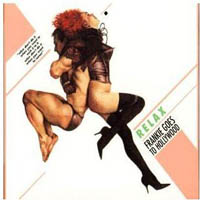 In the beginning was the ban. Oh, there'd been a Frankie before, and a "Relax" before, but the ban was the B of BANG!, that Paul Morley-driven hyperconcept which when completed would lead to….. well, something. (A computer game, as it turned out.)
The ban, of course, was consensual. Relax, in its flesh-and-leather sleeve, ached for punishment – as public and official as possible. Mike Read duly doled some out. The record became an instant legend and soon had the sales to match the publicity. Classic McLaren playbook, as many a veteran must have pointed out. And the really clever thing was, when you played it it was hardly obscene at all: its filth was all in the aura and the rumour.
Or almost. "Relax" had Holly Johnson, after all. Holly wasn't a sexy performer – he sang like he looked, mocking and pinched. But he had a seediness to him that was perfect for the material. He turns the hi-NRG workout of "Relax" into pornography by the simple trick of sounding like a pornographer: there's a grubbiness to every grunt, gasp and sneer. Every time he gasps "when you wanna come" he's part master of ceremonies, part voyeur, part swept-away joyous victim.
He's also the only thing in Frankie you can grab onto. Years later there was a minor scandal as it transpired none of the band played on the track – but surely nobody was shocked? There's not a band on this record – there's barely a song, just a collection of gorgeous Fairlight fragments posing and wheeling to the unending catwalk beat. And thanks to Trevor Horn it all sounds immense. Or almost all: a couple of the keyboard runs are a bit BBC wildlife show, and the sampled splash effect that accompanies a cataract of Caligulan piss in the insta-banned video just sounds on record like something's broken. He could – and would – push and polish the machinery further.
But that wasn't the point of "Relax": the point was to provoke and delight and suggest, and make people dance. And "Relax" was an absolute, enormous success on those terms. The queer and BDSM imagery Morley and the band built "Relax" around dropped a little into the background – leathers switched for tight, slogan-dense T-Shirts – and Frankie became a bona fide event. The Sex Pistols restaged as burlesque? Sure, but oh how it worked.
8
Comments
«
1
2
3
4
All
«
1
2
3
4
All
Add your comment
Top of page