5
May 09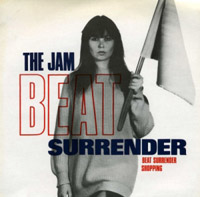 Nothing became The Jam so much in their career as the manner of their leaving it. To quit when their cult – and Paul Weller's icon status – was at its height? Unthinkable. With the benefit of hindsight, of course, it doesn't seem quite that way – the limitations of the band's format, the interpersonal stresses that chafed at Weller, the gradual shift in his taste and sense purpose; all clear enough in the band's music. Their last few singles had been equal parts passion, pastiche and confusion, and the band's termination was more a declaration of independence.
But the idea of the Jam going out in glory was appealing, and to back it up the band produced this piece of theatre. "Beat Surrender" is as much gesture as song, which is just as well, since as gesture it's approaching magnificent and as song it's not terribly good.
The record is staged quite deliberately as a farewell, the final Letter from Paul to the Modernists. By the end it's deliberately gospelly, almost call-and-response, an embrace of the band's audience even as the curtains come down. Weller himself sounds audibly more gleeful as the song proceeds and the strings tying himself to punk, rock, Foxton and Buckler snap one by one. It's the sound of a man hitting escape velocity.
For all its puffing passion, though, "Beat Surrender" is a bit silly. When St Paul intones "Watch phonies run to hide!", it's treading a very fine line between stirring and pompous. Like Kevin Rowland or Adam Ant, the lyrics are squarely in manifesto territory – "seize the young determination!" – but they lack the humour of Adam or the wounding self-knowledge of Rowland. Weller – as ever – sounds like he takes himself very seriously indeed: on his best records that gives him a desperate edge, on too many it just means he can't start the party like he wants to.
6
Comments
«
1
2
All
«
1
2
All
Add your comment
Top of page